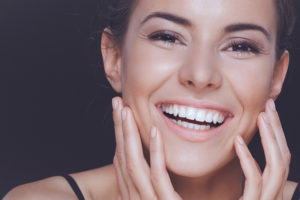 Sadly, we are often judged by our appearance. Among the biggest areas people base their first impressions involve our smiles. If you do not have attractive teeth, people will instantly view you differently until getting to know you. In addition, living with teeth that suffer from cosmetic flaws cause you to feel embarrassed and self-conscious. While it may seem like there is nothing you can do, you do have an effective solution to your problem. With porcelain veneers in Hancock Park, you can drastically improve the appearance of your teeth with a minimally invasive procedure. You will transform the color, size, and shape of your teeth to ensure you make the right statement when smiling.

What are Porcelain Veneers?
Using impressions and images of your teeth, custom-made, thin porcelain shells are attached to the front side of the teeth to hide cosmetic flaws. When compared to traditional dental veneers, porcelain is the most preferred material because it closely mimics the appearance of enamel to create natural-looking results. In addition, this allows the shells to be thinner. This means less of the tooth's enamel is removed during the bonding process to make the procedure minimally invasive. Plus, porcelain is durable and stain resistant so your results will last for several years with the right care.
Are Porcelain Veneers Right for Me?
Veneers are quite versatile, allowing them to be used for several purposes. Often, those who have chipped, cracked, or teeth that have an abnormal appearance choose them because they improve the size and proportion of the teeth. They can also be used to make the teeth whiter—ideal for those who have dark tooth discoloration that doesn't respond to whitening treatments,
In some cases, they can even be used as an alternative to orthodontics. If you have minor alignment issues, the veneers can make your teeth appear straighter without having to spend months in braces.
What Can I Expect During the Procedure?
After your dentist in Hancock Park determines that you are a candidate for the procedure, a comprehensive treatment plan is created. During your first appointment, your teeth are cleaned and prepared. A small amount of enamel will be removed to ensure the veneers sit flush on your teeth for a secure bond and high-quality results. Then, impressions and images of your teeth are taken, which are sent to the dental lab.
It will take about two weeks for the lab to make your veneers. Therefore, we will attach temporary veneers until your new ones are ready. During your second appointment, the permanent veneers are attached, and we will make the final adjustments to your new smile.
Caring for your veneers is easy with nonabrasive dental products. In addition, do not use your teeth as tools and avoid bad habits, like nail biting and smoking. With the right care, your new smile will last an average of 10 years.
Where Can I Get Veneers?
If you are ready to make a bold statement with a new smile, Geller Dentistry can help. Contact our office today to schedule your consultation for porcelain veneers.