Dental Implants – Larchmont Village, CA
The Modern Gold Standard for New Teeth
No one should have to struggle with a smile that isn't complete. After all, not only is your oral health damaged by missing teeth, but so is your sense of self-confidence. At Geller Dentistry, we're dedicated to providing precise, quality care that creates ideal results and exceeds your expectations. That's why we're happy to offer dental implants near Hancock Park as a state-of-the-art tooth replacement option that promises patients satisfying health and aesthetic benefits.
As one of fewer than 20 board-certified prosthodontists in the Los Angeles area, Dr. Benjamin Geller has the experience and training necessary to handle every part of your dental implant process, from placement to restoration and beyond. We also work with other dental specialists in the area including periodontists and oral surgeons if and when it may be necessary. We look forward to giving you a new reason to smile, so call our office to schedule a consultation!
Why Choose Geller Dentistry for Dental Implants?
Entire Procedure Completed In-House
Care from a Board-Certified Prosthodontist
Fully Open About Your Treatment Options
What are Dental Implants?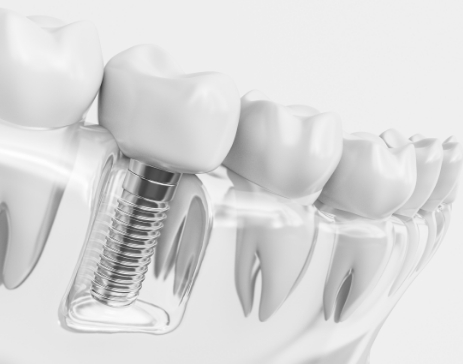 By itself, a dental implant does not look much like a tooth. Instead, it resembles a small screw made out of titanium. It is meant to be placed in the jaw so that it can support the crown, bridge, or denture that will be used to complete your smile. The main advantage of having dental implants placed is that they can fulfill the same functions as your natural tooth roots, which makes them the only tooth replacement solution capable of preventing bone loss in your jaw.
The 4-Step Dental Implant Process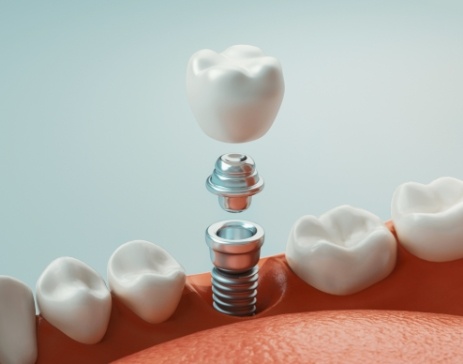 Once we've determined that you're a viable candidate for dental implants, your procedure will begin with the surgical placement of your new implants (the "roots") into the appropriate sockets. Dr. Geller will handle this process personally, ensuring that everything goes as precisely and comfortably as possible.
A period of healing will follow, during which your new implants will create a gradual bond with your jawbone, setting the stage for your new, custom-made restorations that are fabricated by our convenient on-site lab. While many dentists have to send out their restorations to be crafted by professionals, Dr. Geller is happy to offer the convenience and exceptional quality that an in-house laboratory can provide to patients!
Finally, you'll return to our Los Angeles practice so that we can securely place your brand-new crown(s) or prosthetics and make any last-minute changes needed. The final result is so beautifully seamless that you may even forget they're not natural teeth after some time has passed!
Benefits of Dental Implants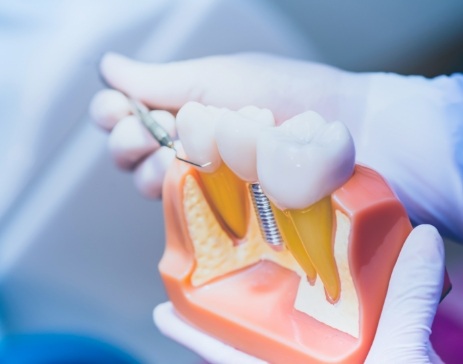 Did you know that according to the American Academy of Implant Dentistry, 500,000 people get dental implants every year? There are a lot of reasons why this revolutionary treatment is becoming the preferred tooth replacement option for both patients and dentists alike. Dental implants recreate missing teeth from the roots up, which gives them numerous important advantages over traditional restorations like dentures and dental bridges. When you choose to replace your missing teeth with dental implants, you'll enjoy benefits for your day-to-day life, your overall health, and your long-term well-being!
Day-to-Day Benefits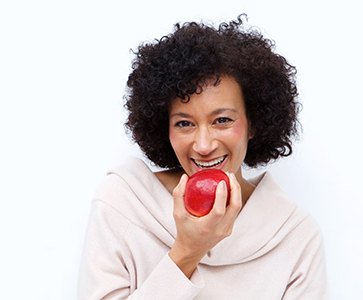 Enjoy an unrestricted diet: Have you been avoiding steak, apples, nuts, or any other foods because of your dentures or a dental bridge? With dental implants, you can eat all your favorite foods easily and comfortably! Dental implants restore around 80% of your natural biting power, meaning you can eat nearly anything without issue.
No changes to your oral hygiene routine: Not only do dental implants look and act like natural teeth, but they can be cared for just as easily as well! Dentures and dental bridges require special cleaners and brushes, along with adjustments to your normal oral hygiene routine. Meanwhile, you can brush and floss dental implants just like natural teeth!
Smile, laugh, and talk with utmost confidence: Dental implants are anchored securely into your jawbone just like natural teeth, so you'll never have to worry about them slipping or popping out of place at embarrassing times.
Health Benefits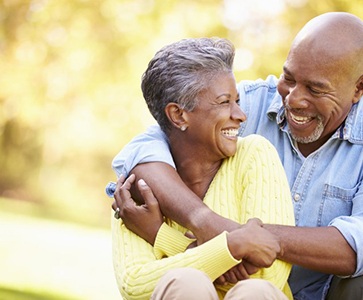 No negative impacts on your teeth and gums: Dental bridges require altering your remaining healthy teeth, and dentures can cause sores on your gums. Dental implants are self-supporting, making them the healthiest option for the rest of your mouth!
Turn the clock back and prevent premature aging: Of all the tooth replacement options, dental implants are the only one that stimulates the jawbone to prevent jawbone reabsorption. Bone deterioration in your jaw happens naturally after tooth loss, and it can diminish your facial features and lead to a sunken, aged appearance! Dental implants can help keep you looking young and healthy by stopping bone reabsorption in its tracks.
Long-Term Benefits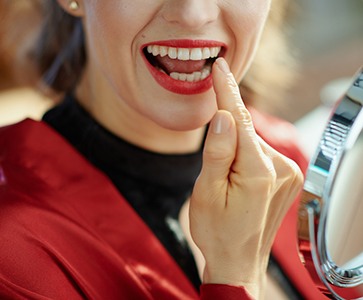 A success rate that you can feel confident about: The success rate for dental implants is extremely high, typically close to 95%!
Permanent results for your smile: While dentures and dental bridges need to be replaced every few years, dental implants are designed to last for decades. In fact, with proper care, most patients enjoy their dental implants for life!
Save thousands of dollars in the long run: It's true that dental implants have a significantly higher up-front cost than dentures and dental bridges. However, studies report that over time, dental implants are usually the most cost-effective option. Dentures and dental bridges wear down every 5-10 years, so dental implants can potentially save you thousands of dollars in replacements alone!
Who Dental Implants Can Help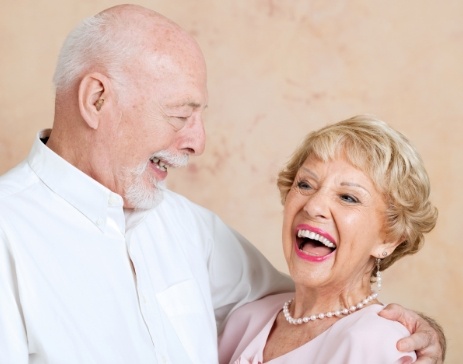 Are you a candidate for dental implant placement? The answer is most likely yes as long as you're an adult who:
Is missing at least one tooth.
Is in good oral health overall.
Doesn't have any health conditions that would prevent implant surgery from being performed.
Is willing to commit to the implant process, which can take several months.
Has enough jawbone density to support the dental implant posts.
Can commit to practicing optimal oral hygiene after implants are in place.
The implant process will look different depending on how many teeth you've lost, as outlined below.
Missing One Tooth
In this situation, the math is simple: you only need one dental implant post to replace a single missing tooth. A crown can be attached to your implant once osseointegration is complete. Because implant crowns are anchored to your jaw and are designed to match the rest of your smile, they tend to look and feel very natural.
Missing Multiple Teeth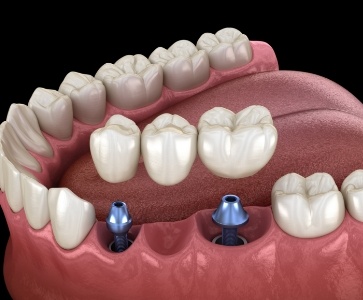 There are a few different ways to restore your smile with implants when multiple teeth are missing. Two or more dental implant posts can be used to support a dental bridge to fill in the space left by three or more consecutive teeth. Meanwhile, partial dentures can be attached to implants to replace teeth in different parts of the upper or lower arch.
Missing All of Your Teeth
Instead of getting an implant post for every missing tooth, you can have a full denture attached to four or more dental implants. Dentures that are anchored to dental implants are much more stable and won't shift or slip around in your mouth; they also have better chewing power and can handle foods that often cause difficulties for traditional denture wearers.
Understanding the Cost of Dental Implants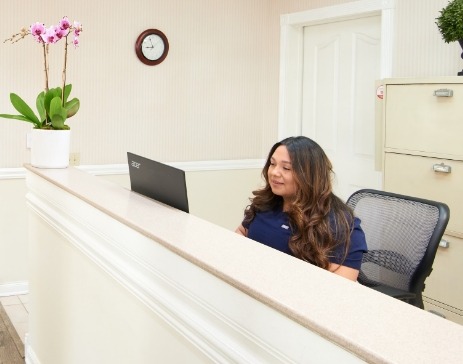 At first glance, choosing to replace your missing teeth with dental implants can seem like a large expense, but it actually is a wise, long-term investment in your smile. While traditional dentures and bridges need to be replaced roughly every seven to ten years, dental implants can last for multiple decades, potentially saving you money in the long run. To fully understand what goes into the cost of dental implants, keep reading the information below, or contact our team and schedule an appointment!
Preliminary Treatments & Dental Implant Surgery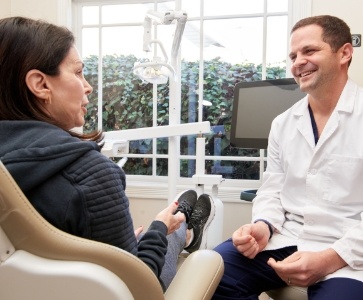 To be successful, some patients first require gum disease therapy or a bone graft before we attempt to place implants. In that case, we know experienced periodontists and other specialists who can help prepare you for implant placement. In most cases, Dr. Geller can handle the entire process in our Los Angeles office. As a board-certified prosthodontist, he has been highly trained in every facet of the implant process.
The Parts of Your Dental Implant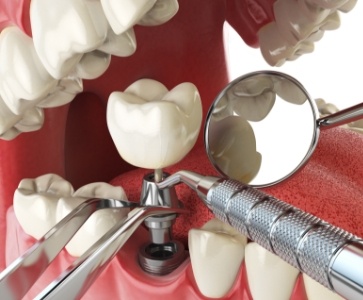 The foundation of a strong implant replacement tooth is the post. In many cases, it looks like a screw, but this titanium post serves as the new tooth's root. It is biocompatible, and it promotes new jawbone growth, just like a natural tooth. Once the post has fully integrated with the bone, we can then place the small abutment piece, which connects the post to the restoration.
Final Dental Implant Restoration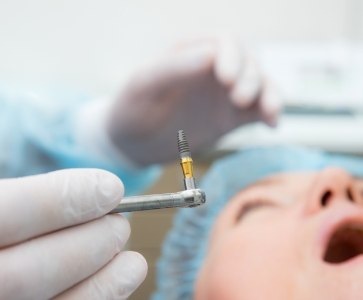 Once we have the abutment in position, we can then take impressions of your mouth and create your restoration. Fortunately, we don't have to have our restorations fabricated at a faraway dental lab. It's made right here in our office! As a result, Dr. Geller can work directly with our technicians and make sure the prosthetic is the perfect fit for your implant and looks completely natural.
Does My Dental Insurance Cover Dental Implants?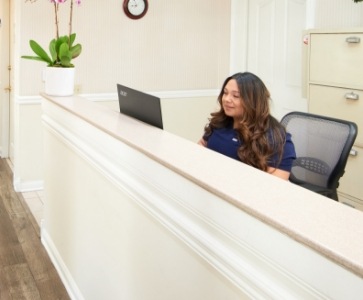 Insurance coverage can vary widely from plan to plan. In general, the restorations involved in the process are covered in part by insurance, but typically, the implant placement portion is not. However, if you require preliminary work, such as gum disease therapy or another procedure, it may be included in your benefits. Before beginning your treatment, we will take a close look at your insurance and explain exactly what you can expect from your dental plan.
Making Dental Implants Affordable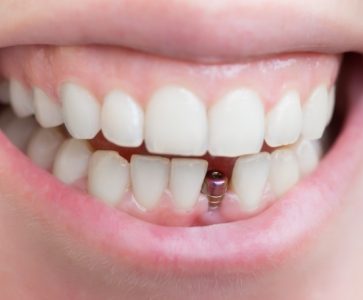 Here at Geller Dentistry, we are proud to be in-network with most PPO dental plans. Our skilled team knows and understands the ins and outs of dental insurance and can help you maximize the coverage you have available. Before you move forward with implants, we'll review your plan and explain the services that are included in your coverage. As a result, you can know what you'll be responsible for paying from the beginning.
Dental Implant FAQs
As the most beneficial way to replace missing teeth, dental implants in Hancock Park have exploded in popularity recently. Because of this, more and more patients may have heard rumors or misinformation about them online. To clear things up and help you make a well-informed decision regarding your smile, we've answered some of the dental implant questions we get asked the most often here at Geller Dentistry.
Are Dental Implants Right for Me?
Whether you're missing just one tooth or a whole mouthful, dental implants may be the treatment you need to enjoy the benefits of a full smile again. Most people with some degree of tooth loss would make good candidates for dental implants.
Some patients, however, may have to undergo preliminary procedures beforehand. For example, a lot of patients require a bone graft to ensure the jawbone is strong enough to accommodate implants. Others might need tooth extractions or gum disease therapy first. To determine whether dental implants are right for you, you'll have to schedule a consultation with Dr. Geller.
Can Dental Implants Replace Front Teeth?
Absolutely! Each implant is topped with a high-quality restoration. This could be a dental crown, bridge, or denture, depending on how many teeth you're missing. Your restoration will be made to perfectly resemble the pearly whites you were born with by taking detailed impressions of your mouth. Even if you get dental implants in your front teeth, no one but our dental team should be able to tell the difference between them and your natural teeth!
How Long Does the Dental Implant Process Take?
The answer to this question can vary greatly from patient to patient. In general, it takes anywhere from three to six months for the implant posts to fully integrate with your jawbone. From there, it may take another few weeks to receive your abutment (a small metal connector that attaches your restoration to your implants) and then your final restoration. If you need bone grafting before that, it can add another few months of healing time. During your consultation, Dr. Geller can lay out a detailed treatment timeline to give you a more personalized idea of how long the process will take.
I Currently Have a Denture. Can It Be Combined with Dental Implants?
Traditional dentures notoriously lose their fit every few years as the jawbone naturally changes shape after tooth loss. The good news is that dental implants prevent the jawbone from shrinking. Therefore, if your denture is supported by implants, it can last significantly longer before it needs a replacement. We can definitely examine your dentures and your mouth to determine whether you're a good candidate for an implant-retained denture.