Veneers – Larchmont Village, CA
Completely Transform Your Teeth
When you have multiple cosmetic flaws in your smile that you want to correct, you might initially assume that you'll need to address them one at a time. But this doesn't have to be the case! At Geller Dentistry, we can place customized veneers on your teeth to completely cover up any problem areas, letting you create the smile of your dreams. Contact our team today to learn more about veneers and how we can use them to make the smile you've always wanted a reality.
Why Choose Geller Dentistry for Veneers?
Long-Lasting, Stain-Resistant Materials
Experienced Husband-and-Wife Team
Personalized and Attentive Care
How Do Porcelain Veneers Work?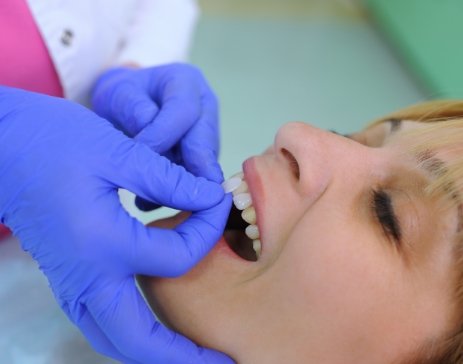 Porcelain veneers are a great option for changing the appearance, color, size, and shape of teeth. They offer the added benefits of being stain-resistant and protecting the natural dental structure from decay and damage. After an initial consultation to determine whether veneers are the best treatment option, the entire process is completed in two short visits, and most patients report experiencing only minor discomfort following treatment.
The first step of treatment is dental preparation. The dentist removes a small amount of enamel from teeth in order to allow veneers to fit into the natural shape of the smile. Once teeth are prepared, the dentist uses digital images, radiography, and dental impressions that are used by the in-office ceramics lab to craft a beautiful, custom veneer. Then, a temporary veneer is placed to allow the patient to get used to the look and feel of veneers while also protecting prepared teeth until the final product is created. Once the custom veneers are completed, patients return for the restoration portion of the process. During the second appointment, the dentist removes the temporary and bonds the permanent veneer in place completing the patient's smile.
Who Should Consider Veneers?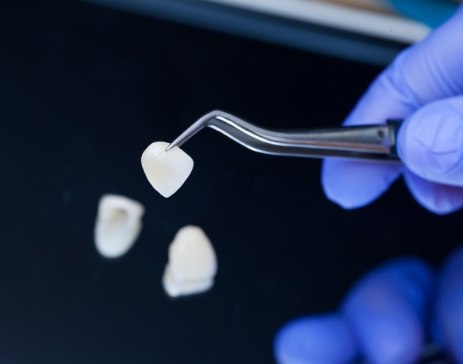 There is never a one-size-fits-all solution to dental care. Every smile is different, and every person has unique goals. Some of the most frequently cited reasons patients choose veneers include:
Patients who are not healthy enough for more extensive dental restoration or who struggle with numbing during treatment often benefit from porcelain veneers to conceal and correct minor chips, cracks, or dental damage without undergoing more invasive treatment.
Patients who are unhappy with the size or shape of their teeth, or who wish their teeth looked more like their favorite celebrity can completely transform their smiles with porcelain veneers. We encourage patients to bring in pictures of smiles they like, so we can help them determine what aspects of the preferred smiles can be used to transform their look.
Patients with minor orthodontic concerns like crowding or gaps who do not have pain or discomfort associated with their bite may prefer to conceal these flaws with porcelain veneers rather than undergoing years of orthodontic treatment.
Understanding the Cost of Veneers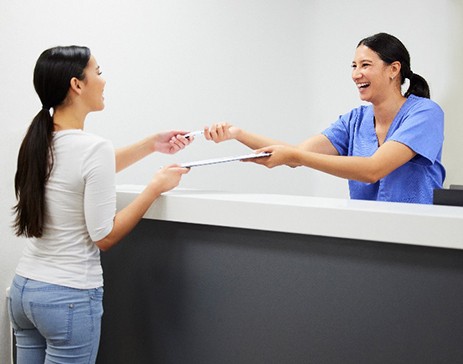 If you're interested in getting an estimate of the cost of veneers, we highly recommend scheduling an appointment with our Los Angeles cosmetic dentists, Dr. Benjamin Geller and Dr. Gloria Garcia-Geller. Since there isn't a flat fee, this is the best way to get a better idea of your financial investment. Of course, if you want to learn more general information about the price before your consultation, that's okay too! In that case, read on.
Cost vs. Cosmetic Dentistry: What's Right For Me?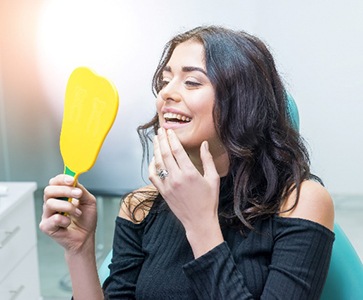 Although veneers are one of the most popular cosmetic dental treatments, they certainly aren't the only way you can improve the shape, size, and shade of your teeth. In the process of learning more about your financial investment, we recommend really considering what you want to change about your smile and all of the treatment options available to you, including:
Braces – If you are unhappy with your smile due to the alignment of your teeth, then braces are certainly an option. The price is somewhat comparable to veneers and the results can last equally as long, but orthodontic treatments only improve the position of your teeth, not their color or shape. That's important to consider if you're struggling with stubborn stains or noticeable chips.
Teeth Whitening – Speaking of stubborn stains, professional teeth whitening treatments can effectively lighten your teeth by eight shades or more! Again, the shape and position of your teeth will remain the same. Therefore, if you want to change more than just the color of your teeth, then this may not be the best choice for your aesthetic goals or your wallet.
Direct Bonding – Direct bonding is popular because it's quick, painless, and can correct everything from stains to chips all at once. However, this treatment is typically only used for more minor imperfections. Plus, the results don't last for decades like veneers can.
Veneers – At first, the cost of veneers may seem a bit high. That said, there's a good chance this cosmetic dental treatment will end up being the best choice since the results can last for 20+ years with proper care, you can correct multiple dental flaws at once, and the entire treatment process can be completed in a matter of weeks.
How to Make Veneers Affordable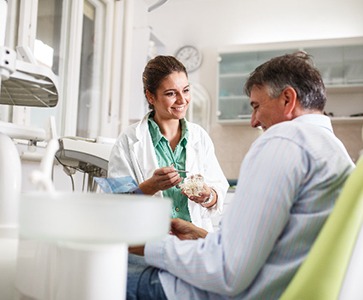 Although our team at Geller Dentistry welcomes dental insurance, providers typically don't cover the cost of veneers. The good news is that we also are happy to accept flexible financing with CareCredit. As a result, you can space-out your payments instead of paying for your entire treatment upfront. Patients love this financial solution since there are low-to-no interest options available and signing up only takes a few minutes!
Veneers FAQ's
Are you embarrassed by the appearance of your teeth? Are you tired of hiding your smile? Veneers in Larchmont Village can practically erase imperfections like chips, stains, gaps, and more to dramatically transform your smile in no time. During your initial consultation, we'll give you all the information you need about this unique cosmetic service. In the meantime, we invite you to look over the following FAQs to learn more!
Can Anyone Get Veneers?
If you don't love the look of your pearly whites, there's a good chance that porcelain veneers can help. However, you may not be a good candidate for them right off the bat. Oral health issues like tooth decay, gum disease, and teeth grinding can threaten the success of veneers. If needed, we'll work with you to address these problems first before moving on to your cosmetic procedure. Once your smile is healthy, we can work on improving its appearance.
How Many Veneers Will I Need?
Veneers can correct a single imperfection or several all at once. However, we typically recommend getting veneers in pairs, such as the front two, four, six, or eight teeth. We find that this tends to offer the most seamless and uniform results.
Does it Hurt to Get Veneers?
To ensure your veneers lay flat on your tooth properly, we'll need to remove a thin layer of enamel that's about as thick as a contact lens. At first, this may sound daunting, but you can rest assured that you have nothing to fear. While this is such a small amount of enamel that most patients would only feel a slight amount of pressure, we will use a local anesthetic to numb the area and keep you completely comfortable during this step.
Are Veneers Permanent?
It's important to keep in mind that veneers are irreversible. Since enamel doesn't naturally grow back, the teeth that have been prepared for your porcelain veneers will always need to be covered to protect them from damage and decay. Thankfully, we craft our veneers from high-quality materials to ensure beautiful, durable, and long-lasting results. With the proper care, you can easily expect your veneers to last 5-10 years or longer before needing to be replaced or touched up.
Will My Dental Insurance Cover the Cost of Veneers?
Unfortunately, cosmetic treatments like veneers aren't usually covered by dental insurance. However, since every plan is slightly different, feel free to bring your insurance paperwork with you to your consultation and we'll review the details of your policy. Our talented team has years of experience helping patients maximize their benefits and minimize their out-of-pocket expenses. We'll be happy to go over all your payment and financing options to ensure getting your dream smile is as affordable as possible.