Smile Makeovers – Larchmont Village, CA
Completely Transform All of Your Teeth
If you wanted to repaint your house, it's not likely you would instruct painters to choose whatever color they wanted. If you need to repair a scratch on your car, you wouldn't tell the body shop to fill in the paint with whatever color they have laying around, and when you want to enhance or correct your smile, not just any service will do. Your smile is unique, and your treatment plan should be too! That's why Geller Dentistry offers Larchmont Village & Hancock Park residents custom smile makeovers.
Why Choose Geller Dentistry for Smile Makeovers?
Wide Variety of Cosmetic Treatments
Reliable, Long-Lasting Materials
Experienced Husband-and-Wife Team
What is a Smile Makeover?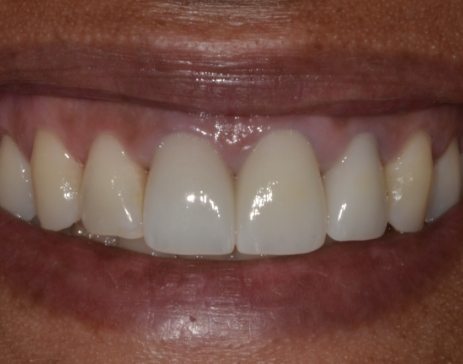 A smile makeover is a form of cosmetic dentistry that combines both restorative and cosmetic treatments to help you rid your smile of its imperfections. Depending on the severity of the problems, a smile makeover can take anywhere from days to weeks to years. Because every case is different, Dr. Benjamin Geller or Dr. Gloria Garcia-Geller will perform a thorough exam of your smile to determine which methods of treatment will be most beneficial to receiving the dramatic results you deserve.
Who is a Good Candidate for a Smile Makeover?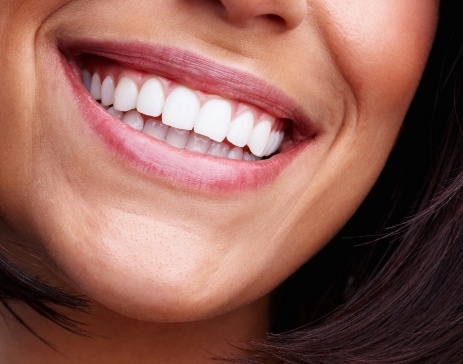 If you experience any of the following problems, you are likely to be a qualified candidate for a smile makeover:
Chips/cracks
Fractures
Missing teeth
Crooked or misshapen teeth
Stains/discoloration
Gapped teeth
Overcrowding
If we discover oral health concerns such as tooth decay, gum disease, or wear from bruxism, these issues will need to be addressed before beginning any cosmetic services.
Remember, when agreeing to undergo a smile makeover, the most important aspect is your oral health. By fixing those issues that can lead to more serious dental problems (i.e., chips, cracks, broken or missing teeth), we can help you maintain a healthier, more beautiful smile for longer. Once the more health-related aspects of your smile are fixed, your cosmetic dentist in Larchmont Village can then focus on improving your aesthetics.
What is Often Included in a Smile Makeover?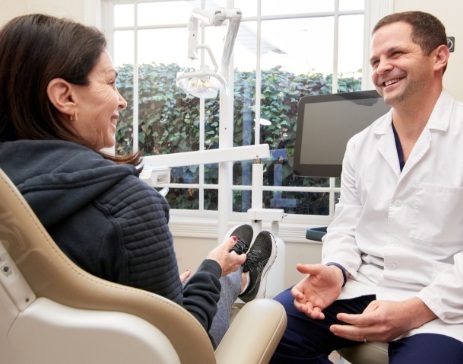 Most often, a typical smile makeover treatment plan can include any of the following services:
Veneers – Veneers are an ideal cosmetic solution for concealing multiple cosmetic flaws. These thin sheaths of dental grade porcelain are attached to the front of teeth creating a picture-perfect smile with minimal preparation and fast results.
Metal-Free Restorations – These natural-looking restorations repair damage caused by decay using composite resin fillings or ceramic crowns, inlays, and onlays. Because these materials can be matched to natural tooth color, the results blend seamlessly into any smile.
Teeth Whitening – Professional whitening can help you get rid of stains and discolored spots on your teeth – including those that store-bought whitening products have trouble getting rid of. For your convenience, we offer both take-home and in-office whitening treatments.
Dental Implants – The most versatile tooth replacement option, dental implants effectively replace any number of missing teeth from one tooth to a full arch. Implants replace the entire tooth from the root up giving patients natural-looking and feeling, long-lasting results.
Lifelike Tooth Replacement – Dr. Benjamin Geller is a board-certified prosthodontist. This makes him an expert in tooth replacement, offering durable crowns and bridges, full and partial dentures, implant-retained restorations, and more.
Smile Makeover FAQs
Are your imperfect teeth making it hard to talk, smile, or laugh in front of others? If so, chances are you could benefit from a smile makeover. Our dentists have years of experience helping patients smile more brightly with advanced restorative and cosmetic dentistry treatments. Before committing to a smile makeover, we invite you to read through this list of frequently asked questions first.
What Are the Benefits of Smile Makeovers?
Getting a smile makeover may sound like a frivolous, unnecessary process at first. However, revamping your pearly whites can be about a whole lot more than just aesthetics. Problems like chipped, cracked, gapped, or crooked teeth can worsen your oral health in the long run by making them harder to keep clean. Missing teeth will eventually weaken the jawbone, increasing the risk of further tooth loss. A smile makeover can correct these issues and help you maintain a healthy, bright smile.
Smile makeovers might even be able to improve other aspects of your life. Decades of research have proven that people with a full set of straight, white teeth tend to be perceived as more attractive, trustworthy, and successful. One study, in particular, found that people who underwent a teeth whitening treatment before a job interview were more than 50% likely to be hired (with higher salary offers too).
Are Smile Makeovers Expensive?
The price of your smile makeover depends on which procedures you're receiving. During your consultation with your cosmetic dentist, we can provide you with a cost estimate you can trust, as well as discuss your payment options.
Does Dental Insurance Cover Smile Makeovers?
Similarly, the answer to this question also varies based on which treatments you're undergoing. If a procedure is considered restorative (that is, not simply cosmetic), then dental insurance may cover a portion of the cost – usually somewhere between 50% and 80%. That said, cosmetic treatments are typically not covered by insurance, as they are not deemed medically necessary.
How Long Will the Results of My Smile Makeover Last?
The lifespan of your smile makeover results will differ based on the specific treatments we perform. Generally speaking, though, the more diligent you are about maintaining your oral hygiene, the longer your results will last. Here are some simple tips for prolonging your beautiful smile for as long as possible:
Brush your teeth twice daily for two minutes each time, floss at least once per day, and rinse with an antibacterial mouthwash regularly.
Visit our office for routine dental checkups and cleanings every six months.
Avoid or limit foods that are particularly hard or sticky, as they can damage real teeth in addition to artificial ones.
Quit smoking. Tobacco use increases the risk of gum disease, tooth decay, oral cancer, and more. Plus, it stains your teeth.
Wear a nightguard if you have a habit of grinding and clenching your teeth at night.