Dentures – Larchmont Village, CA
Restore Your Smile with Custom-Crafted Dentures
If you're missing a few or all of your teeth, we've got some excellent news. You can improve your smile, your oral health, and even your quality of life with dentures from your dentist in Larchmont Village. Removable prosthetics are a wonderful solution for anyone who's experienced the difficulty of living with an incomplete smile. With full and partial dentures available through our Los Angeles practice, you can finally achieve a beautiful, sturdy smile and speak, eat, and smile with ease once again.
Why Choose Geller Dentistry for Dentures?
Highly-Trained Prosthodontist
Dental Implants Placed In-House
Long-Lasting, Lifelike Materials
Who's a Good Candidate for Dentures?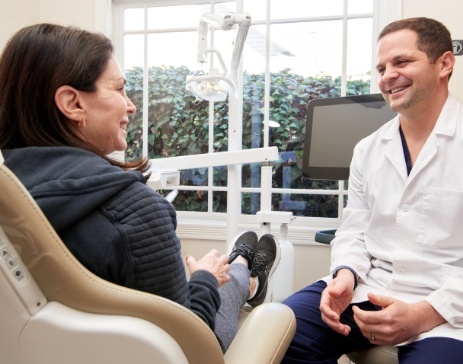 Dentures in Larchmont Village are a great option for anybody missing several or all of their teeth across an arch. If you believe this restorative treatment could help revitalize the function and appearance of your smile, give our office a call to schedule a consultation! Dr. Geller will examine your mouth and walk you through all of your treatment options, so you can choose the one that best fits your needs and budget.
Types of Dentures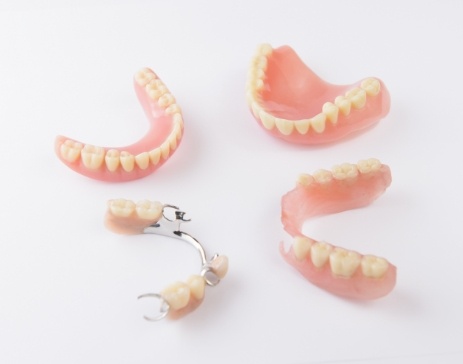 At Geller Dentistry, we're proud of our in-house laboratory which allows us to complete the entire denture treatment right here in our office. Many dentists must rely on a far-away lab to create their restorations, but Dr. Geller can craft beautiful, high-quality dentures and place them, all under one roof! That's the convenient, quality care we love to offer our patients. Here are some of the types of dentures that we can craft in our laboratory.
Full Dentures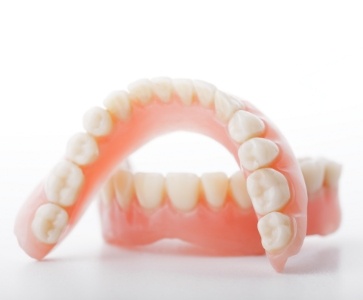 If you're missing a whole row of teeth on the top or bottom, full dentures are the smile completing-solution for you. The complete set of prosthetic teeth is placed onto a gum-colored acrylic base, and the non-implant supported denture is held in place with suction that naturally occurs within the mouth when the restoration is placed over the gums. Denture adhesive can be used as an additional securing aid.
Partial Dentures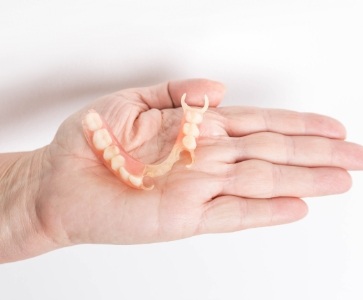 Much like a puzzle piece, partial dentures replace teeth that have been in different areas across an arch. When not supported by dental implants, partial dentures are often secured in the mouth with a metal framework that fits between existing teeth.
Implant-Retained Dentures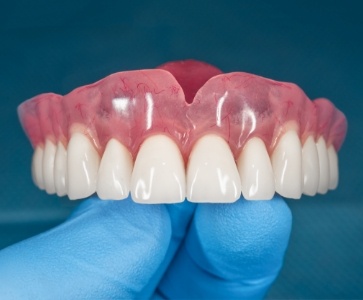 For the absolute best fit and continued oral health, dental implants are the top choice for supporting your new tooth replacement. Keeping in mind your unique oral and personal needs, Dr. Geller can design a denture that attaches securely to strategically placed implants within your mouth. The advantages of choosing an implant-supported replacement are numerous. They provide the best fit for your dentures, you never have to deal with messy adhesives, and they keep the jawbone healthy and whole!
The Benefits of Dentures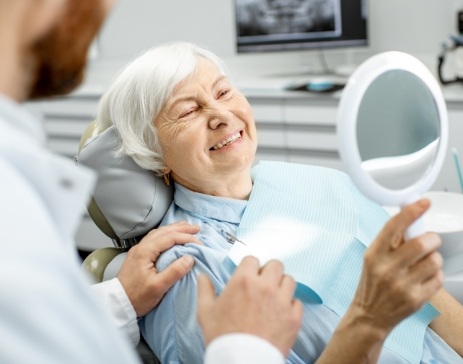 Dentures have a wide array of benefits that patients can enjoy, including:
Easy cleaning and maintenance
Improved diet and bite power
Cost-effective tooth replacement solution
Preservation of facial structure
Can last over 10 years with proper care
Boosted confidence
Restored speaking ability
Custom-fitted for your unique oral structure
If you're interested in learning how dentures may be able to benefit you, schedule a consultation today!