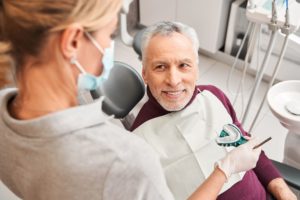 Dentures are a popular way for those with missing teeth to refurbish their smile. After all, they help you speak and eat normally like you did prior to losing your pearly whites. If you haven't had dentures before, you might have questions about how to get started. Many patients wonder how they're made and how long it takes to create them to plan in advance. If this sounds familiar, keep reading to learn more about the 4 steps your dentist takes to create your dentures.  
Step #1: Examination
The first thing that will happen is an examination with your dentist. They'll evaluate your oral health to ensure that your mouth is able to successfully house your dentures.
It's unfortunate, but as we lose teeth our body reabsorbs the surrounding bone mass because it's no longer needed. This can leave your jaw in a weakened state. Because dentures rest on your gums and jawbone, they need to be healthy enough to provide support.
Also, if you have other issues like gum disease or decay in your remaining teeth, it will need to be cleared up. Each person's circumstances are different so it's difficult to predict how long this step will actually take, but your dentist can provide an estimated timeline.
Step #2: Extraction and Recovery
In many cases, it's necessary to remove certain pearly whites, like wisdom teeth or back molars, for the dentures to be fitted correctly. The recovery period after an extraction can be expected to last a few weeks if everything goes smoothly, and even longer if there are complications. Generally, you can plan on this step taking 6 to 8 weeks.
If you're considering dentures, have your examination completed beforehand to get a jump start in case extractions are necessary. If your dentist performs a procedure, your gums need to mend and close before they can proceed.
Step #3: Making Impressions
Once your mouth is healed after extractions or other required treatments, then impressions of your teeth can be made. These impressions can be made one of two ways:
Traditional mold. This involves biting down into an arch filled with a putty-like material that captures the shape of your teeth. After a few minutes, it hardens and can be removed. It's then sent to a lab for your customized dentures to be built.
Digital scans. If your dental office has the right equipment, they can virtually scan your teeth and send that information to the lab to create your dentures.
Step #4: Mock-up
Depending on your situation and how your dentures are being made, you might need to test how they fit before they are completed. Once the lab creates your dentures, they send it back to your dentist to "try it on" you first. That way you'll be able to see what they look like, and the dentist can ensure everything sits the way it's intended to.
After you try them on, your dentist will send them back to the lab with any minor changes to be finalized. This entire process could potentially take anywhere from 6 weeks to 3 months, so you may have a temporary solution put in place, like immediate dentures, while you wait.
As you can see, the entire process can take quite a while from start to finish. If you're looking forward to being fitted for dentures, you'll want to plan accordingly! Once it's all said and done, you'll be able to show off a full smile once again!
About the Practice
At Geller Dentistry, our husband-and-wife dental team works together to improve their patient's oral health as well as their overall appearance. They have a family-friendly atmosphere combined with top-of-the-line technology so that you'll feel comfortable knowing that you're getting the best care possible. Dr. Benjamin is a certified prosthodontist, making him an expert at replacing your missing teeth. If you're interested in dentures and would like a consultation, you are welcome to request one on our website or by calling (323) 467-1472.