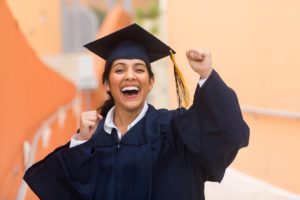 If someone you know is about to graduate from high school or college, you're probably feeling pretty excited about them reaching this important milestone!  That said, you should also want them to look their best on their big day, and a bright, white smile will allow them to confidently walk across the stage with all eyes looking toward them. This is why you should consider taking them to see their cosmetic dentist; they'll be able to ensure their smile is ready for their big day! Here's a little more about how they can help.
The Importance of Having a Bright & White Smile
The bottom line is that no matter who you are or what you end up doing, your smile is one of the first features that people will notice about you. So when someone you know is about to graduate and receive a diploma, given that all eyes will be on them, it's worthwhile to know that their pearly whites look absolutely stunning.
But it's also worth mentioning that a healthy, bright, dazzling white smile is going to set graduates up for success as they enter the professional world. They'll make notable first impressions, excel in professional and social environments, and enjoy fewer oral health issues that might impede their smile's beauty and functionality.
Simply put, a flawless smile makes any graduate look happier, healthier, more attractive, and simply better at whatever they end up doing later in life!
Professions That Benefit from Having Healthy, Beautiful Teeth
To help set your graduate up for the "real" world, here are a few examples of some professions that benefit greatly from healthy teeth:
Lawyers arguing cases
Teachers giving lectures
Businesspeople making deals and meeting clients
Beauticians working with people to improve their appearances
Newscasters and meteorologists on television
Restaurant staff greeting customers
Repairmen working with homeowners
Cosmetic Treatments That Are Perfect for Grads
In the world of cosmetic dentistry, countless treatments exist to meet the varying needs of patients; anything from staining and discoloration to minor chips and cracks can be addressed, and in no time at all, your grad's smile will be looking its best for every single photo opportunity. Here are a few widely accessible options that are perfect for your graduate:
Teeth Whitening – This quick, noninvasive procedure is capable of whitening a smile by up to several shades, with results lasting from a few months to a couple of years. An at-home kit is provided in advance of the ceremony to ensure a bright smile on your grad's big day.
Veneers – Veneers are among the most comprehensive cosmetic treatment options, capable of addressing all sorts of aesthetic issues including chips, cracks, stains, gaps, and more. They'll need to be placed in advance of any graduation ceremonies, so plan accordingly with your dentist.
Smile Makeovers – Your dentist can utilize any combination of treatments to provide a patient with customized results to meet their smile goals, which is ideal for those with several issues that need attention before graduation.
About the Practice
The team at Geller Dentistry proudly serves patients and families in the Los Angeles, CA area under the skillful leadership of Dr. Benjamin Geller and Dr. Gloria Garcia-Geller. The practice offers a wide range of preventive, restorative, and cosmetic dentistry options, so if you or someone you know is graduating soon, don't hesitate to contact them for all of your smile goals! Telephone: (323) 467-1472.