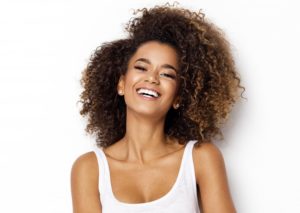 As the years go on, you may notice changes in your physical appearance. Not only can your skin and body age but so can your smile. This can make you feel self-conscious and dream of having a bright grin again. Fortunately, cosmetic dentistry can restore your teeth's youthful look! Read on to learn about what causes your smile to appear older and the cosmetic treatments that can help.
What Causes a Smile to Age?
As time passes, your teeth can become more lackluster. They lose their bright and shiny appeal and can even begin to look grayish. Even if you consistently care for your teeth with brushing and flossing, the years can take a toll on your smile. Here are some common dental issues that can occur with older adults:
Dingy Teeth: Frequently consuming dark-colored foods and drinks, as well as using tobacco products, can cause teeth to lose their brightness.
Darkened or Yellow Teeth: Over time, the layer underneath the enamel can thicken, leading to darkened or yellowed teeth.
Crooked Teeth: Certain oral health issues can impact the gum tissue and cause them to recede. As a result, the teeth will begin to shift out of place.
Fragile Teeth: Age can cause the teeth to become brittle and more vulnerable to chips, cracks, and shearing.
Cosmetic Dental Treatments that Can Revitalize Your Smile
You can roll back the years on your smile with these common cosmetic dental treatments:
Veneers
Veneers can instantly transform your dull smile into a vibrant one! Ultra-thin shells of porcelain are adhered to the front surfaces of teeth, concealing dental imperfections from view. Veneers can restore chipped, cracked, gapped, discolored, and misaligned teeth in two dental appointments.
At-Home Professional Teeth Whitening
As stated above, your teeth can become dull over time. Certain foods and drinks can begin to stain and discolor your teeth. Fortunately, at-home professional teeth whitening can make your teeth bright again. Your dentist will provide you with custom-made trays and special bleaching agents. After wearing the treatment as directed for a few weeks, your smile will be several shades whiter, appearing more youthful than ever!
All-Ceramic Restorations
For years, metal was used to repair decayed or damaged teeth. Although these restorations were effective, they were highly noticeable, causing your smile to appear aged. Now, your dentist can use porcelain to create seamless-looking inlays, onlays, and crowns. These metal-free restorations combine the best qualities of both cosmetic and restorative dentistry. You will have improved oral health and a luminous grin.
No matter what stage of life you are in, a youthful and vibrant smile can be yours again! With the help of your dentist, cosmetic dental treatments are sure to roll the years back to reveal beautiful pearly whites.
About the Author
Dr. Benjamin Geller and his team at Geller Dentistry are eager to help you achieve the smile of your dreams! He earned his Doctor of Dental Surgery at the University of California and completed a three-year residency at the University of Puerto Rico, focusing on cosmetic dentistry. With a focus on providing high-quality dentistry with care and convenience, he offers various cosmetic treatments such as veneers and professional teeth whitening. To schedule a consultation, visit his website or call (323) 467-1472.