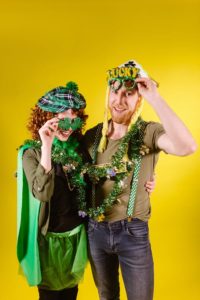 St. Patrick's Day is known for epic celebrations, which often include a lot of alcohol. It's easy for things to get a little out of hand as you join Irish pride festivities. However, a hangover isn't the only thing you should be worried about. Although it's only one day out of the year, St. Patrick's Day can be bad news for your smile. You don't have to skip celebrating or risk your pearly whites. Here's how you can enjoy the holiday while safeguarding your smile. 

Alcohol and Your Oral Health
You know that drinking a lot of alcohol can inhibit your actions and mental state, but it can also affect your oral health. Whether you drink occasionally or frequently, alcohol is linked to many dental concerns, including:
Many alcoholic drinks contain sugar, fruit juice, or mixers, which can erode enamel. Not only are they acidic, but they also contain sugar that feeds cavity-causing bacteria.
Dark-pigmented drinks can stain your enamel. You can be more susceptible to discoloration because alcohol temporarily weakens your enamel, allowing residue from foods and beverages to seep into the pores.
Alcohol can lead to dehydration easily, which can cause your mouth to become dry. A dry mouth is a perfect environment for harmful oral bacteria to get out of control quickly, increasing your risk of decay, infections, and bad breath.
Alcohol affects your body's ability to heal and fight infections, which can make you more susceptible to gum disease.
Keep Your Smile Healthy
Too much of a good thing can be bad. It's best to limit your alcohol consumption and drink responsibly. Your dentist also recommends following a few tips to protect your teeth and gums during St. Paddy's Day, like:
Use a Straw:

Drink alcohol through a straw to limit its contact with your teeth to avoid stains.

Don't Sip:

Although you don't want to chug your drink, don't sip your beverage for many hours because you'll expose your teeth to cavity-causing sugar more often.

Drink Plenty of Water:

Water will keep you hydrated to combat the effects of alcohol. It will prevent your mouth from getting too dry. It will also cleanse your mouth in between brushing and flossing to remove residue from your teeth.

Chew Sugarless Gum:

Chewing sugarless gum will increase saliva production to help keep your mouth clean.

Brush and Floss:

Although you might be tired after a long night of partying, don't forget to brush and floss your teeth before heading to bed.
You don't need to have good luck to keep your smile healthy. Give your teeth and gums the attention they deserve while enjoying the celebrations.
About Dr. Benjamin Geller
Dr. Geller earned his dental degree at the University of California at San Francisco and has regularly continued his education in many specialties, like implant dentistry, full mouth reconstruction, and cosmetic dentistry. He is a member of several professional organizations, including the American Board of Prosthodontists. Request an appointment through our website or call (323) 621-3730.