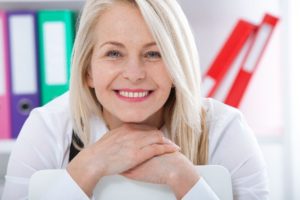 500,000 people annually are investing in dental implants to replace their missing teeth because they provide predictable and reliable results. Most people with good oral and general health can benefit from them, but can you be too old for dental implants? No! Age is just a number if you are interested in the most successful solution for tooth loss; however, there are a few things you should know about potential risks if you've reached your Golden Years.

Dental Implants are Unique
Traditional tooth replacement methods only replace the surfaces of teeth above the gumline. Dental implants differ because they replicate both the root and the crown.
A titanium post is surgically placed into the jawbone to serve as a root while providing a stable foundation for your restoration, which is attached using an abutment.
Candidacy for Dental Implants
Whether you've lost a single tooth, multiple teeth, or an entire arch, good oral and general health are requirements for dental implants. 
Unfortunately, oral health issues, medical conditions, and certain medications that coincide with aging can make your procedure a little riskier. Don't worry, your dentist will create the personalized plan you need to replace your lost teeth safely, depending on your situation, like:
History of Gum Disease:

Next to tooth decay, gum disease is also a leading cause of tooth loss. Periodontal therapy will stop the infection to restore your gum health.

Bone Loss:

You can lose up to 25% of your jaw's density the first year of missing a tooth, which will continue over time. Some age-related medical issues and medications can also weaken your bone. Your dentist may recommend bone grafting to ensure your jaw can provide sufficient support for your implants.
Older patients can also have a higher risk of delayed healing or infections. A good oral hygiene routine and regular dental care will minimize the likelihood of any complications while on your journey to a complete smile. 
Invest in Dental Implants
If you have gum disease, pre-existing conditions, or take certain medications, you may still be a candidate for dental implants. Your dentist will examine your mouth and learn more about your medical history to create a personalized plan to treat your tooth loss. It's not uncommon to need a little prep work, like tooth extractions, periodontal therapy, or bone grafting.
With the right dentist by your side and good habits at home, like brushing and flossing, your new smile can thrive for decades. 
Don't let another birthday go by before you replace your missing teeth. Invest in the best with dental implants.
About Dr. Benjamin Geller
Dr. Geller earned his dental degree at the University of California at San Francisco and continued his education by 3 years to focus on prosthodontics. He has advanced qualifications in implant dentistry, full mouth reconstruction, and many other specialties. He is a proud member of many professional organizations, including the American Dental Association. If you're ready to treat your tooth loss, request an appointment through our website or call (323) 621-3730.