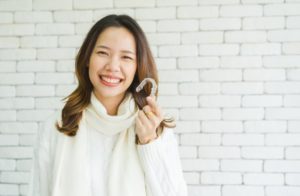 The holiday season has arrived! Although this is a special time of the year, it can also be very busy and hectic. With all the hustle and bustle, it can be easy to neglect your Invisalign treatment plan. Your teeth have been gradually moving into their perfect position and you want to be sure to stick with your treatment plan. Here are some tips to stay on track with Invisalign during the festivities!
#1. Stick with Your Dental Appointments
It may seem like a hassle to fit in your treatment appointments when there are so many other fun things going on during the holidays, but they are essential for making sure that your Invisalign treatment is progressing as it should. Your dentist will be able to adjust your aligners if needed, and also make sure that you're on track with the full course of your treatment plan.
#2. Wear Your Aligners as Prescribed
A large part of the success of Invisalign is allowing the aligners to gently move your teeth into their desired place. Be sure to continue to wear them for at least 20-22 hours a day and switch out each set of trays every two weeks (or as recommended by your dentist). During holiday parties or dinners, set a designated amount of time to enjoy eating and drinking, and then you can put your aligners back in as soon as possible. This will help ensure that they stay clean and don't get stained from food or beverages.
#3. Be Mindful of Holiday Treats
While it's tempting to indulge in all kinds of sugary treats, this can lead to cavities or other dental problems that could interfere with your Invisalign treatment. Do your best to choose healthy snacks as often as possible and minimize sticky foods like holiday candy and pies. These can get stuck between your teeth and make it difficult for your aligners to fit properly.
#4. Take Care of Your Aligners
The most challenging part of the holiday season and staying on track with Invisalign is when you have to travel. If you plan on taking a holiday trip, make sure that you bring along a toothbrush and other essentials so that you can clean them every day while you're away. This will help keep your aligners free from harmful bacteria and food particles, which could otherwise cause them to become discolored or smelly.
With just a few extra steps, you can enjoy all the festivities without worrying about falling behind in your Invisalign treatment plan. Your new and improved smile will be the next thing to celebrate after the holidays!
About the Author
Dr. Benjamin Geller and his team at Geller Dentistry serve the families of Los Angeles and the surrounding areas. Dr. Benjamin Geller completed a three-year residency at the University of Puerto Rico, focusing on cosmetic dentistry. By providing a full range of services, including Invisalign, his skills and experience are guaranteed to leave you with a dazzling new smile! To schedule an appointment, visit our website or call  (323) 467-1472.