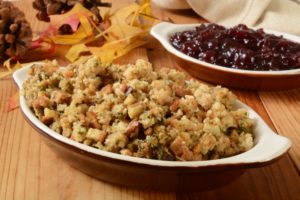 The meats, the sides, the desserts – what a feast! For many people, Thanksgiving is one of the best eating days of the year. Especially if it's a large family gathering, there can be an overwhelming number of foods to try. One thing to be aware of is how some Thanksgiving foods and beverages can stain your teeth. Keep reading to learn some foods to watch out for, different ways your teeth can become discolored, and how you can whiten your teeth.
These Thanksgiving Foods Can Stain Teeth
Whether you've recently done teeth whitening treatment or you just want to look out for your pearly whites in general, know that these holiday foods and beverages can stain teeth.
Cranberry Sauce: This item is a staple of family meals in the winter season, but the dark red pigment can stain your teeth, and the acidity of the fruit can wear down your enamel. If you can't omit it from your plate selection, try to limit the amount you eat and rinse your mouth with water when possible.
Pie: Relative to other pies, pumpkin pie isn't too troublesome for your teeth. But all the berry pies are candidates to harm your enamel and stain your teeth. When you do indulge in some pie, brushing and flossing afterward would be beneficial to wash away all that acid and sugar.
Balsamic Vinegar: Many families include salad among their Thanksgiving dinner options, and balsamic is a popular dressing choice in that case because it combines major flavor with minor calories. Because of its acidity and dark color, however, too much of this zesty option can stain teeth. If you don't skip the dressing, be sure to rinse your mouth with water to wash it away.
Wine: This won't come as a shock, but red wine is almost as problematic for your teeth as it is for a white carpet. It's a major staining culprit, plus the acidity is tough on your enamel and the alcohol can cause dry mouth to increase your oral bacteria count. If you have some, brushing your teeth afterward and drinking water is a great idea.
Coffee: This pep-you-up beverage may come into play for the person hosting the Thanksgiving festivities to get through the day, or perhaps folks who are just trying to stay awake after too many trips to the dessert table. Coffee can stain teeth, plus you should be cognizant of your caffeine intake. Here's another case where brushing afterward is a wise move.
What Are the Different Reasons My Teeth Can Stain?
Besides foods and beverages, there are several other potential culprits:
Tobacco use
Poor dental hygiene
Diseases that prevent the development of tooth enamel or medical treatments like neck radiation and chemotherapy
Medications like tetracycline, mouthwashes containing chlorhexidine, and antihistamines
Dental materials, including some amalgam restorations
Aging
Genetics
Too much fluoride intake
Trauma such as a sports injury
What Can I Do About My Stained Teeth?
Your cosmetic dentist in Larchmont Village has several options to address teeth staining. The severity of the staining could influence what options suit you best.
You could consider a take-home tooth whitening kit to use for two weeks. They also offer tooth-colored crowns and porcelain veneers. Along with professional treatment, using a whitening toothpaste and being diligent about brushing twice each day can help the cause.
Definitely continue to enjoy Thanksgiving foods and festivities, but you don't have to sacrifice your smile! If you do slip up at the dinner table and suffer teeth staining, your dentist will be ready to help.
About the Author
Dr. Benjamin Geller earned his dental doctorate from the University of California at San Francisco and went on to specialize as a prosthodontist which means he is highly trained in dental implants, crowns, bridges, dentures, jaw disorders, and more. Both he and Dr. Gloria Garcia-Geller are members of the American Dental Association. They offer at-home teeth whitening, tooth-colored crowns and fillings, veneers, and smile makeovers if you are looking to give your grin a boost. Schedule a consultation on their website or call (323) 467-1472.