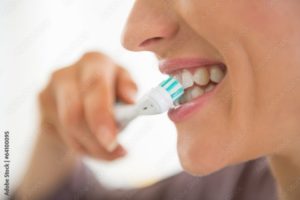 Sugar is highly addictive. From cookies to cake to ice cream to candy, there seems to be a never-ending list of sweet treats to indulge in. During this time of year when sweet-filled holidays are abundant, it can be even more difficult to avoid giving in to temptation. If you have a sweet tooth, cavities are a constant fear. To help you prevent cavities, read on to learn five tips that will help you maintain excellent oral health and a beautiful beam.
Tip #1: Brush More Often
Brushing your teeth once in the morning and again after your last meal of the day is key to keeping your pearly whites in excellent condition. If you have a sweet tooth, brush more often to prevent cavities. Consider cleaning your smile every time you eat sweets. Wait for 30 minutes since the level of acid in your mouth rises when you eat or drink anything other than water. This will help you prevent enamel damage.
Tip #2: Floss Your Smile
Along with brushing more often, you will also want to be sure to floss. If you skip this important oral health step, 40% of plaque will remain on your smile. this sharply raises your chances of developing cavities. Just like with brushing wait until 30 minutes after you've finished consuming your sweets so you don't damage your tooth enamel.
Tip #3: Switch Out Your Toothbrush
Toothbrushes should be replaced every three to four months since this is usually when the bristles begin to fray. If you wait much longer than this and continue brushing your teeth with an old toothbrush, it's unlikely that they will be cleaned thoroughly enough. Replacing your toothbrush insures that you can remove as much excess bacteria, plaque, and sugar from your smile as possible.
Tip #4: Rinse with Mouthwash
Consider incorporating mouthwash into your daily oral hygiene routine. There are certain spots in your mouth that can't be reached with brushing and flossing, so using mouthwash will get rid of the bacteria stuck there. Additionally, mouthwash is a great way to quickly freshen up your breath.
Tip #5: Make Healthier Choices
Rather than eating any and all cookies, candy, or other unhealthy treats that are presented to you, be picky about your sweet options. For example, if you know that you have a pint of your favorite ice cream at home, avoid filling up on the birthday cake in the office breakroom or grabbing a treat after work. This will allow you to indulge your sweet tooth without overdoing it.
Having a sweet tooth doesn't have to be bad news for your pearly whites. Tith the five above tips, you can enjoy your favorite treats while still preventing cavities and maintaining a healthy, bright, and beautiful smile!
About the Practice
Geller Dentistry is led by Dr. Benjamin Geller and Dr. Gloria Garcia-Geller. This highly skilled team treats patients living in Los Angeles and the surrounding California communities. They are experts in all things related to oral health, including cavity prevention. They can teach you techniques to prevent cavities so your smile remains bright, beautiful, and free of oral health issues for years to come. Do you want to make an appointment with Geller Dentistry or are you ready to learn more about their service offerings? If so, call their office at (323) 467-1472 or visit their website to get started.