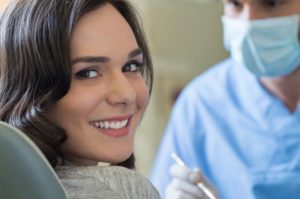 When it comes to having a gorgeous grin, bright, white, and uniform teeth are a must. There are a range of cosmetic dental treatments that can help you achieve this, such as teeth whitening and porcelain veneers. For people who want to completely transform the look of their smiles with both restorative and cosmetic treatments, a smile makeover may be the way to go. So you know what information you need during your consultation, read on to learn about 6 questions you should ask your dentist before you get a smile makeover.
Question #1: How Long Will My Smile Makeover Take?
The length of time it will take to complete your smile makeover will vary by case, but your dentist can give you an estimate. Some cosmetic procedures take longer than others, so the timeframe will also depend on the type of treatment you get. Additionally, existing oral health issues will need to be corrected before you proceeding.
Question #2: Can I See Before and After Photos?
Seeing photos of past smile makeovers is a great way to learn more about the results you can expect to see. Ask your dentist if they have photos they can show you, or check their website for them. Additionally, online reviews are often accompanied by photos.
Question #3: What Problems Can Be Fixed with a Smile Makeover?
Smile makeovers can correct a multitude of issues, including chipped or cracked teeth, dental discoloration, alignment issues, gaps, and misshapen pearly whites. Your dentist will be able to give you detailed information on their service offerings to help you determine which one is the best option for your pearly whites.
Question #4: How Will You Make My Smile Makeover Last?
Since smile makeovers will require time and money to undergo, it's important that you work with a cosmetic dentist who helps you retain your results for as long as possible. Ask what precautions they'll take to ensure that your smile remains looking its best for years to come.
Question #5: Will My Smile Makeover Look Realistic?
Want a bright, white smile? Though that may sound ideal, it's important not to go overboard. Pearly whites that look too perfect are a dead giveaway that you've had work done and may prevent your smile from looking as lovely as you hoped.
Question #6: How Much Will Treatment Cost?
Cosmetic dental treatments aren't usually covered by insurance. For this reason, ask your dentist for a cost estimate and other payment methods they have available. Many dentists offer financing options for patients who can't afford to pay for treatment all at once.
With these six questions, you'll have all the info you need to make sure a smile makeover is the right choice for you. Soon, you'll be sporting a more beautiful beam!
About the Practice
Looking to achieve a lovelier smile? Geller Dentistry is here to help. Dr. Benjamin Geller, Dr. Gloria Garcia-Geller, and their friendly, inviting staff offers lifelike smile makeovers to correct imperfections and help you feel more confident in your pearly whites. In addition, their inviting dental office ensures that the residents of Los Angeles can receive the care they need stress-free. Visit Geller Dentistry's website or call their office at (323) 467-1472 if you're interested in scheduling a consultation or want to learn more information about smile makeovers.