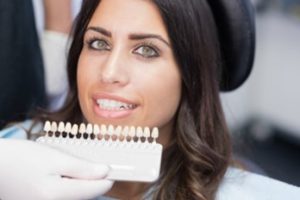 Many patients today dream of a brighter, more beautiful smile—and solutions like veneers exist to make that dream a reality! However, you don't simply waltz into the dentist's office and immediately receive your veneers; patients are typically given a temporary set of veneers to wear for about a week or two prior to their permanent ones being placed. Here's what you need to know about this step of the process and why these temporary veneers are crucial towards improving your smile.
They Protect Your Prepared Teeth
In order for your veneers to sit correctly against your teeth, a small amount of your enamel must be conservatively removed.  Since your teeth are being modified in this way to accommodate your veneers, they will need to be protected until your permanent veneers are ready. Temporary veneers ensure that your natural teeth remain safe and sound in the meantime!
They Serve as A "Test Drive"
Similar to buying a new car, your temporary veneers serve as a trial run for your permanent ones. Your dentist will take a mold of your teeth to use in the creation of your veneers and then fit temporary ones to your teeth. These serve a very important purpose—they allow you to experience how the veneers feel before they're placed, giving you and your dentist the opportunity to make adjustments as needed. If something needs to be made smaller, larger, whiter, or shaped differently, it can be handled beforehand.
Since your veneers will influence everything from how you bite to the way you speak, it's important that everything is perfectly and precisely calculated before your permanent veneers are fitted. Since veneers are intended to last up to 20 years, ensuring the proper groundwork is laid out for them is wise—temporary veneers encourage this.
They Preview Your Future Smile
Since veneers are such a big and life-changing investment, your dentist wants you to be certain that you're happy with your decision. During the brief period you're wearing your temporary veneers, you'll get to experience your future smile's look and feel—in addition to showing it off to the world! This also aids you in determining if any adjustments need to be made to your permanent veneers.
Veneers are meant to make your smile beautiful, and the temporary ones you'll receive before your permanent ones play an important role. Talk to your dentist today if you think veneers might be the solution your smile needs.
About the Author
Dr. Benjamin Geller was born and raised right here in LA, and he's very proud to serve the dental needs of patients in his hometown alongside his wife, Dr. Gloria Garcia-Geller. Together they offer a wide range of services including cosmetic dentistry options like porcelain veneers. If you have any questions about veneers or would like to schedule an appointment, feel free to reach out through their website or by phone: (323) 467-1472.