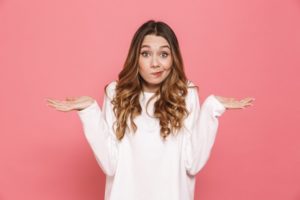 If you've ever been popped in the head, you're probably familiar with that anxious feeling you get as you raise a hand to your mouth to feel that everything—your teeth, lips, tongue—is where it's supposed to be. The panic really starts to set in when you feel, floating around in your mouth, a piece of what you think is one of your teeth. But you quickly spit it out and notice that it's one of your dental fillings, and your reaction is one of relief followed by confusion—what exactly are you supposed to do when a dental filling unexpectedly comes out? Contacting an emergency dentist might be a safe bet.
What Should I Do After Losing a Dental Filling?
Although losing a dental filling is technically a dental emergency, you should not panic—instead, call your dentist! Explain what happened, inform them of any symptoms you have, and try to schedule an appointment as soon as possible. The dentist is better equipped to manage this situation than you are, so once the appointment is made, do your best to relax and keep your mouth clean. Avoid chewing on the side of the mouth where the filling once was, rinse your mouth with salt water often, and avoid foods that could cause further damage. If needed, generic painkillers available at most pharmacies can provide temporary relief.
Where Should I Go After Losing a Dental Filling?
You should visit your dentist's office after scheduling an appointment. As with any other dental emergency, it is best to have it remedied sooner rather than later—prolonging care will only make matters worse! Sometimes the dentist will be able to see and treat you on the same day that you called. In case of a long wait (a few days), the dentist can provide other recommendations and suggestions for relief.
How Do I Take Care of My Dental Fillings Moving Forward?
Once your dental fillings have been repaired and/or replaced, you will want to take extra precautions to prevent it from happening again. Although there is no surefire way to avoid the possibility of a damaged filling, there are things you can to do reduce the chances. While most of it boils down to practicing good oral hygiene and regularly visiting the dentist, little things like wearing a mouthguard during contact sports, or reducing the amount of tough, difficult-to-chew foods you eat, also contribute towards keeping your dental fillings firmly attached to your teeth.
About the Author
Geller Dentistry has been serving the Los Angeles community since 2014. Helmed by Dr. Benjamin Geller and his wife, Dr. Gloria Garcia-Geller, they specialize in general, cosmetic, and prosthodontic dentistry, and are more than qualified to assist you with any problems involving damaged teeth, dental restorations, and more. If you have any questions about the article, you can contact them at their website or (323)-467-1472.