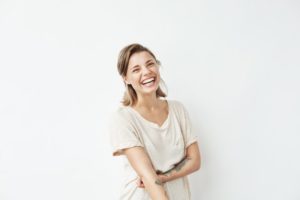 Veneers are thin shells made from dental-grade porcelain that cover up the entire front surface of a person's teeth. This allows them to mask a range of cosmetic issues to give your smile a more aesthetically appealing look. Though veneers are an incredibly common treatment, it's important to make sure that you understand the procedure before moving forward with it. So that you understand what all the process involves, read on to learn five interesting facts about veneers.
Fact #1: Veneers Can Address a Range of Issues
As previously stated, several dental flaws can be addressed using porcelain veneers. A few common cosmetic problems that they can fix include minor alignment issues, chipped or cracked teeth, gaps, misshapen pearly whites, and dental discoloration. Whether you need just one veneer or a whole mouthful, this versatile cosmetic treatment can be used to transform your smile in no time.
Fact #2: Veneers Are Permanent
During the veneers process, a small amount of tooth enamel is removed so that they better adhere to your teeth and seamlessly blend in with the rest of your smile. Enamel doesn't grow back, so these changes to your teeth are permanent. That's why it's important to be sure you're ready to move forward with treatment before proceeding.
Fact #3: The Process Can Be Completed in 2 Visits
The veneers process is easy to complete and usually only takes two visits. Once your teeth have been prepared, your dentist will take impressions so a trusted dental lab can craft your veneers. They will then give you temporary veneers to protect your teeth while you wait for your permanent ones. This will also allow you to get used to them and to take note of any changes that need to be made to your permanent ones. Once your dentist receives them back from the lab, they will have you return to their office so they can complete your smile.
Fact #4: Dental Veneers Are Customized to Fit Your Needs
Not all porcelain veneers are created the same. They can be customized to perfectly fit your teeth and give you a lovely, realistic smile. Your dentist will color-match them to the rest of your teeth so that your veneer-treated pearly whites look just as natural as the rest.
Fact #5: You Need to Take Good Care of Your Veneers
With proper care, traditional porcelain veneers last an average of 10 to 15 years. To get the most out of your investment, avoid foods that are overly hard, tough, or sticky, as these can damage your restorations. Brush twice per day for two minutes and floss before you go to bed at night to prevent cavities. Additionally, make sure to visit your dentist every six months for a checkup and cleaning.
As you can see, there are several facts about veneers that you should know before committing to treatment. If you're ready to learn more about the procedure, contact your dentist so you can be on your way to a more gorgeous grin!
About the Author
You deserve to love your smile, and the compassionate team of oral health professionals at Geller Dentistry is here to help you achieve that. They offer durable high-quality porcelain veneers to cover up smile issues like cracks, gaps, and discoloration. They can also teach you facts about porcelain veneers that will help you understand how they work and decide if they're the right option for you. Call Geller Dentistry's office at (323) 467-1472 or visit their website to make an appointment or for more information on porcelain veneers.