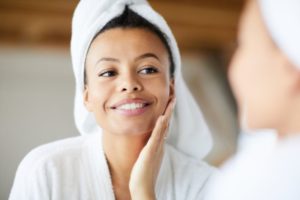 When you first saw your dental crown within your smile, it was hard to believe how well it blended in with your natural teeth. How did your dentist do it?
With the advanced techniques utilized for modern dental crowns, you receive a personalized restoration that mimics the shade of your natural tooth. It's not by chance – it's science. Keep reading for an easy-to-digest look at the process.
Determining Your Tooth Color
Replicating the color of your teeth is not a simple feat. It requires training and precision since natural tooth enamel comes in many shades. That's why a perfectly white crown is not the right choice for everyone's smile.
Your dentist needs to factor in many variables like the hue, chroma, and value of your natural teeth. Hue refers to the natural colors within the enamel, like gray, yellow, or red, while chroma describes the saturation of the hue. The value is the overall level of lightness or darkness to the shade.
Locking In on Your Exact Dental Crown Color
To zero in on the color of your crown, your dentist utilizes a shade guide. It's a plastic or metal plate containing many shades of porcelain teeth laid out in a specific order. The dentist holds the guide up beside your mouth to identify the closest match. This process has several factors at play.
The lighting in the treatment room can alter the appearance of your tooth, so your dentist tries to view your tooth under natural lighting. You may be asked to stand near a window. If natural light isn't an option, fluorescent light is usually the next choice.
To try to avoid distractions for your dentist to make the determination, you may be asked not to wear bright lipstick, makeup, or brightly colored clothes. Also, the dentist may play it safe by placing a gray bib over your clothing to avoid color contrasts. This can help give their eyes a neutral resting place.
During the dentist's training, they learned not to look at the teeth for more than seven seconds consecutively while comparing them to the shade guide. If they did, the rod cells in their eyes can get too used to the color. So, the gray bib enables the cells to reset when your dentist glances at it for a few seconds.
Once your dentist identifies the perfect color for your dental crown, all of the specifications are utilized to create the seamless match you were hoping for. You can rest easy knowing your smile can be upgraded without anyone being the wiser!
About the Practice
At Geller Dentistry, we strive to create a comfortable atmosphere and get to know our patients so we can provide the best possible treatment for their smile goals. We combine a cosmetic dentistry focus with the expertise needed to ensure your treatment functions as intended for a lifetime. We offer free second opinions and every new patient gets a thorough exam, so we are on the same page from day one. If you are interested in a dental crown, we are going to create it in our onsite laboratory to match the exact color of your natural teeth while providing the structure and vitality your oral health requires. To schedule a consultation and get started on the new addition to your smile, visit our website or call (323) 467-1472.