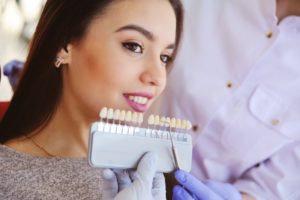 Are you interested in improving the look and function of your teeth? You might have heard of veneers and crowns. They're two popular dental restoration methods that are equally capable of achieving stunning results. Even though they can accomplish similar goals, there are some key differences you should be aware of. Understanding what they are can help you choose the best option for your smile. Read on as we discuss the unique benefits of each treatment and when they're preferred.
What Is a Veneer?
A veneer is a durable sheath of porcelain that is adhered to the front of a tooth. The material is color-matched to your natural enamel, creating results that blend seamlessly with the surrounding teeth. However, for the treatment to be effective, your tooth must be strong, healthy, and have sufficient enamel.
What Is a Crown?
A dental crown covers an entire existing tooth. It's custom-made to match the shape, size, and color of your remaining teeth to give you a long-lasting and natural-looking smile. A crown can be made of metal, porcelain, or a combination of both. Since the material is twice as thick as veneers, it's much more durable and resistant to cracking.
Differences Between Veneers and Crowns
It's important to take distinct differences into account to determine the best treatment for your needs. Some differences include:
Shape
As mentioned earlier, veneers are thin shells that are attached to the front of a tooth. Crowns are three-dimensional restorations that closely resemble the size and shape of the teeth they intend to cover and are placed over an entire tooth.
Purpose
Veneers are purely cosmetic, disguising flaws and imperfections to create a more aesthetically pleasing smile. Crowns combine restorative and cosmetic qualities, as they can simultaneously improve the appearance, function, and strength of your grin.
Cost
The cost of veneers and crowns depends heavily on the extent and complexity of the treatment. It's worth noting that most insurers will not cover the cost of veneers since they're considered purely cosmetic. But since crowns are a type of restoration, insurance will often pay for a part of it.
How Do You Choose the Right One for You?
Do you have a large filling, root canal, or a very worn or cracked tooth? A dental crown is likely the best option for you. It can help keep the tooth intact and protect it from further damage.
Are the issues you want to address relatively minor and mostly cosmetic? A veneer may be the ideal solution for your case. It can greatly improve the color and appearance of your teeth, delivering beautiful, flawless results.
When it comes to choosing between crowns or veneers, it's hard to say which one's the right option. Ultimately, your dentist is the only one who can tell you which treatment best suits your unique situation!
About the Practice
At Geller Dentistry, we use our advanced skills and knowledge to provide the best possible treatment for your smile. We deliver the highest level of clinical care in a comfortable, welcoming, and relaxing environment. If you're unsure how to choose between veneers and crowns, we can help you determine the right one for your unique. To schedule a consultation, visit our website or call (323) 467-1472.