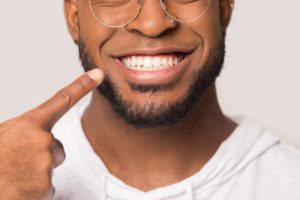 Thanks to cosmetic dentistry, you can make the smile of your dreams a reality. It's an investment that promises to improve oral health and give you results that last for years to come – but how many years exactly? That's a burning question most patients have before pulling the trigger on treatment. Although it's difficult to give a definite answer, your Los Angeles cosmetic dentist shares a general idea of how long you can expect a few popular treatments to last.
How Long Does Cosmetic Dental Work Last?
The lifespan of your results depends on the type of treatment, as some cosmetic procedures are simply more long-lasting than others. However, here's what you can expect from the following services:
Porcelain Veneers
Veneers are thin, durable sheaths of porcelain that are affixed to the visible portions of teeth. Most patients enjoy porcelain veneers for up to 10 years, but they can easily last up to 20 with proper maintenance. Factors like tooth trauma, teeth grinding, biting hard objects, and poor oral health can damage or break veneers, shortening their lifespan.
All-Ceramic Restorations
All-ceramic crowns, inlays, and onlays are extremely durable and can last up to 15 years before necessitating replacement. These restorations are fit over damaged, decayed, or broken teeth. Not only can they enhance your appearance, but they can also help you enjoy a healthy smile for many years!
Teeth Whitening
Do you have discolored, stained, or dull-looking teeth? Professional teeth whitening treatment may be the ideal solution for you. Using customized at-home whitening kits, you can achieve a dramatically brighter smile after only a couple of applications – all from the comfort of your home! Even though results are fast, your dazzling pearly whites can last anywhere from six months to three years.
Dental Implants
Dental implants are often considered the gold standard of tooth replacement. They're the best and most effective way to replace missing teeth. With implants, you can enjoy a natural-looking smile for up to 30 years! In most cases, only the restoration attached to the implant will require minor repairs or replacement.
Tips for Maintaining Your New Smile
Once you achieve your stunning new grin, you're going to want to maintain it! Factors like your oral hygiene and personal habits can significantly influence the longevity of your results – here are some tips to help them last:
Practice good oral hygiene (brush your teeth twice a day and floss once a day)
Visit your dentist bi-annually for routine cleanings and exams
Avoid tobacco products
Limit your intake of sugary, acidic, and highly processed foods
Cosmetic dentistry can help you achieve a smile you'll never stop showing off. While there's no specific answer for how long it will last, taking good care of your teeth will ensure you can enjoy it for as long as possible!
About the Practice
Our team at Geller Dentistry has created a loving, comfortable, and welcoming atmosphere where we get to know every patient. Together, our dentists can diagnose and treat almost every dental condition – all under one roof! We can help you improve your oral health and happiness with our cosmetic services. If you're ready to invest in a new smile, visit our website or call (323) 467-1472 to schedule a consultation.