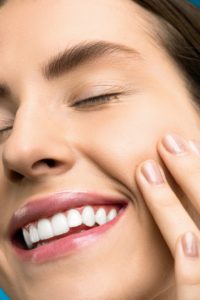 Your teeth play a crucial role in your self-esteem. Research shows people with attractive smiles are often more confident. Not to mention, many people form their first impression upon meeting someone new based on their teeth. Not sure if your teeth are sending the right message? Here are 7 traits of a beautiful smile.

1. Tooth Color
Your teeth change color over time from age, genetics, poor oral hygiene, and certain lifestyle habits. Years of drinking coffee or skipping routine dental appointments can make your teeth appear brown or yellow. The stains can cause you to look older than your real age, while people with white teeth are viewed as being more intelligent, youthful, and professional.
2. Smile Arc
Your maxillary gum line is the line that forms between the intersection of your upper teeth and gums. Essentially, it creates the curve of your smile. The ideal gum line has a slight curve upward that narrows at the ends.
3. Spacing
Few people are born with naturally straight teeth. Whether from genetics, orthodontics recession, or another issue, the spacing of your teeth can create an unattractive smile. If your teeth have gaps or are overcrowded, orthodontics can move them into ideal positions. You'll not only improve your confidence but your dental health, too.
4. Gum Display
Believe it or not, the appearance of your gums influences your smile. If you have too much gum tissue, it can make your teeth look smaller than average, called a gummy smile; however, too little tissue can make you look older.
5. Bite
The way your upper and lower teeth meet not only affects your oral health and functions, but your appearance as well. An overbite or underbite can change your facial features. Orthodontics can move your bite into its best position to ensure your facial features are balanced.
6. Dental Midline
Your dental midline involves the area between the two dental incisions. If your midline is moved to either side, your smile may not look symmetrical. There are several treatments in cosmetic dentistry that can create a pleasing smile line.
7. Cant
Cant is referred to as the tilt of your teeth. Many people find teeth that are straight up and down more pleasing than those that tilt inward or outward. Orthodontics can fix the tilt while also improving your oral functions.
Invest in a Beautiful Smile
If you're unhappy with the way your teeth look, you can invest in your confidence with the help of your cosmetic dentist. They'll consider several factors when creating your treatment plan to ensure you achieve the picture-perfect smile you deserve.
About Dr. Benjamin Geller
Dr. Geller earned his dental degree at the University of California at San Francisco and has completed advanced training in many specialties, like cosmetic dentistry, dental implants, and prosthodontics. He strives to help each patient attain a healthy, beautiful smile using the latest innovations in dentistry. If you're ready to transform your teeth, contact our office today to schedule your consultation.