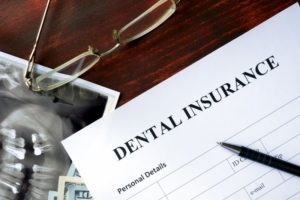 Dental insurance can be difficult to navigate. There are several different types of benefits out there and they can become confusing because they don't work quite like your health insurance plan  does. Do you know the difference between visiting a dentist who is in-network and one who is out-of-network? Your dentist in Larchmont Village clears it all up. Continue reading to learn more about the differences between in-network and out-of-network providers before your plan renews in January.
What Types of Dental Insurance Plans Are There?
There are two main types of dental insurance plans to choose from:
Health Managed Organization (HMO): This type of plan offers health care coverage for monthly or yearly fees. However, they provide coverage limited to providers that work in-network. This means that you will have a list of dentists near you to choose from who have established a contract with the insurance company to provide dental care at pre-established rates.
Preferred Provider Organization (PPO): PPO plans offer coverage to insurers at reduced rates too, but you are able to choose any provider you'd like, whether they are in or out-of-network. If you choose an in-network dentist, you will receive care at some pre-established rates, but if you choose an out-of-practice practitioner, a customary fee schedule will be established. You pay for the services you get and then file the claim to be reimbursed.
How Do In-Network Dentists Work?
When you choose an in-network dentist to receive dental care from, you will generally be paying less at the time of service. You will usually get up to 100% coverage for preventive care, 80% for basic procedures, and 50% for more complex restorative treatments. Even though you will not have as much freedom when it comes to choosing your dentist, ultimately you will:
Pay less out-of-pocket fees
Receive more coverage and benefits at the time of service
Usually encounter lower prices
How Do Out-of-Network Dentists Work?
For PPO plans, your coverage for different treatments can range anywhere from 100% to 50% or 40% depending on your unique plan. These providers are not contracted with your insurance company, so they do not have pre-established rates. Often times, highly trained dentist work out-of-network, but you will usually end up spending more out of pocket since you must pay at the time of your service. You can still use your dental insurance plan to get your money reimbursed directly to you.
Now that the year is coming to a close, there is no better time to take advantage of your benefits. For most insurance plans, they renew at the end of the year which means all unused benefits go to waste. Take this time to maximize your dental benefits.
About the Practice
At Geller Dentistry, you have two experienced dentists providing quality care to patients in Los Angeles. Dr. Benjamin Geller earned his Doctor of Dental Surgery from the University of California at San Francisco. Dr. Gloria Garcia-Geller earned her Doctor of Dental Medicine from the University of Puerto Rico. Dr. Gloria is in-network with most major PPOs while Dr. Benjamin provides specialized care and is considered an out-of-network provider. For more information on dental insurance or schedule an appointment, visit their website or call (323) 467-1472.