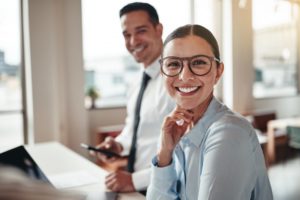 Are you currently looking for a new job, or simply trying to work your way up at your workplace? Even though you have all sorts of skills and experience that make you successful at what you do, having a stunning smile can impact your career for the better. It is no secret that your appearance and the way you present yourself makes a difference in the workplace, so why not use that to your advantage? Continue reading to learn more from your cosmetic dentist in Larchmont Village about how smiling and cosmetic dentistry can benefit you.
A Gorgeous Smile Increases Your Confidence
Putting on a smiling face can easily make you seem less nervous. Even if you are feeling a bit anxious about an interview or a presentation, smiling alludes that you are feeling confident and approachable. When you aren't showing them off, you can come across as less friendly and even insecure during social interactions.
A Good-Looking Smile Demonstrates Your Strong Work Ethic
When you have a beautiful, aligned smile, you are demonstrating that you are committed to taking care of yourself and looking presentable. If you can do this in your everyday life, you have the potential to show off these exact same skills at the workplace. Other things that straight teeth suggest is positive attributes like health, intelligence, happiness, and success.
A Healthy Smile Makes You More Attractive
When someone looks generally unhappy or grumpy, they are putting off the impression that they aren't approachable and even untrustworthy. This doesn't describe someone who is generally portrayed as attractive. If you want to appear more appealing to others, a friendly smile is a great place to start. On top of that, having bright, white teeth are considered younger looking and more attractive.
A Beautiful Smile Is Contagious
When given the choice, employers want to hire someone who brings positivity into the office, and this is exactly what a great smile can do. This is because smiling is contagious! If you're constantly beaming, it tends to rub off on people, and when everyone is in a better mood, they perform better! It also correlates with having a more likeable personality, including traits like extroversion and stability. These are great qualities to exhibit to your employer and colleagues.
Ultimately, a gorgeous smile can go a long way in the workplace. If you're self-conscious about your pearly whites, talk to your dentist about ways you can enhance them and feel more confident!
About the Practice
At Geller Dentistry in Los Angeles, CA, you have not one, but two highly skilled dentists providing a variety of cosmetic services. Dr. Benjamin Geller earned his DDS from the University of California at San Francisco. Dr. Gloria Garcia-Geller earned her DMD from the University of Puerto Rico. Both dentists are members of the American Dental Association and the California Dental Association. For more information on ways to enhance your smile or to schedule an appointment, visit their website or call (323) 467-1472.