March 22, 2020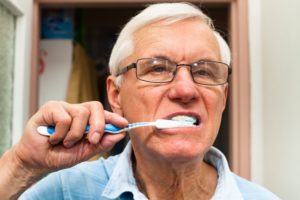 You've finally had your missing teeth replaced with dental implants, but the job isn't done. You now have to maintain the insertion site while the fusion process (osseointegration) takes place. It's of the utmost importance that you control oral bacteria, which is key in preventing dental implant infections. Read on to get some simple but helpful tips so you can go on to enjoy a successful and lasting restoration!
Perform Excellent Oral Hygiene
While it's always necessary to keep your teeth and gums clean, it's even more important after you've had dental implants placed. At a minimum, you should brush and floss your teeth two times a day. The brushing will help to agitate and remove debris clinging to the surrounding teeth, while flossing will address the remaining 40% of the surfaces that can't be cleaned with your toothbrush. Additionally, you can rinse with mouthwash as an added protective measure.
Maintain Regular Visits
While your implants are healing, you should be maintaining regular visits to your dentist so he or she can monitor your progress and the condition of your oral health. The last thing you want is for a problem to be allowed to fester until it becomes a major issue that could compromise your smile reconstruction. As a general rule of thumb, you should visit every few weeks.
Limit Your Consumption of Sugary Foods
The food of choice of oral bacteria is sugar. Thus, the more you consume, the greater the chances are of plaque forming and an infection impacting your dental implants. If you have a tendency to crave sweets, here are some healthier alternatives to consider:
Fruit – A healthy way to satisfy a sweet craving is to eat a delicious apple, orange, banana or one of the many other types of fruits. They are exponentially better for your teeth and gums than consuming processed snacks.
Protein – A desire for sugar can sometimes be the result of a drop in your blood glucose. One way to address this is to eat protein-rich foods like cheese, chicken, nuts or turkey.
Sugar-free sweeteners – When it comes to sweetening your food and beverages, you have several options to choose from. Some of the popular alternatives are xylitol, stevia and monk fruit.
In addition to incorporating these healthier lifestyle options into your regimen, be sure to drink more water. Not only will it help to keep you properly hydrated, but it will also aid in flushing away debris and bacteria that could be lingering after a meal.
With the right effort and expert guidance from your local dentist, you can enjoy a fully restored smile and superb functionality for 30 years to a lifetime!
About the Author
Dr. Benjamin Geller graduated from the University of California at San Francisco. He then went on to specialize as a prosthodontist. This required a three-year residency at the University of Puerto Rico, where two key areas of focus were Implant Dentistry and Full-Mouth Reconstruction. During the COVID-19 pandemic, Dr. Geller is only providing emergency dental care, but once the virus is better controlled, he'll be available to once again create beautiful smiles by placing dental implants at Geller Dentistry. He can be reached for more information through his website.
Comments Off on How to Prevent Painful Infections in Your Dental Implants
No Comments
No comments yet.
RSS feed for comments on this post.
Sorry, the comment form is closed at this time.