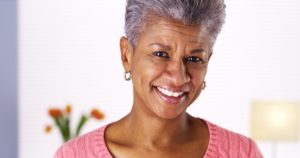 Life without all of your teeth can be quite challenging, but with a set of dental implants surgically inserted, you can regain the full function of your teeth and receive a confidence boost from your new smile. Before you move forward with the procedure, though, you need to know what the connection is between bone density and dental implant success in Hancock Park? Read on to get an answer you can trust from a local dentist.
How the Dental Implant Process Works
A dental implant is a cylinder-shaped titanium post that is surgically inserted into the jawbone. Its primary function is to replace the natural stability provided by the missing tooth's root. After the implant is placed, it will fuse with the underlying bone through what is called osseointegration, the result being a sound foundation that is only rivaled by the original tooth root itself.
After the implant has seated and fused sufficiently, a titanium abutment is added. Its function is to anchor the final prosthetic in place to ensure a secure and highly functional replacement.
The Relationship Between Jawbone Density and Dental Implants
It could be said that the jawbone and dental implants in Hancock Park have a symbiotic relationship. That's because for an implant to seat properly, there must first be adequate jawbone density. If a patient is deficient in this area, then the dentist may need to perform a bone grafting procedure to build up the bone bed.
Once an implant is placed, though, it will then help to fortify the jawbone, as the latter relies on tension from each tooth's roots to stimulate bone growth. This, in turn, helps to prevent facial collapse and any premature wrinkling.
Determining Your Eligibility for Dental Implants
In addition to assessing your bone density, the dentist will consider the following:
Your Oral Health – If you have any plaque development or signs of gum disease, you'll need to receive restorative treatment before the dental implant process starts. After all, the last thing you want is to have a preventable mishap derail your results.
Your Overall Health – No matter what kind of dental procedure you undergo, the condition of your total wellness is always taken into consideration. Thus, when you visit, a member of the dentist's staff will take your vital signs and ask about any previous health conditions. The careful approach will ensure that you have a successful and non-threatening experience.
Achieving a more attractive and functional smile starts with contacting an implant dentist in Hancock Park today to request a visit. With a new set of teeth, you can expect your life to take a turn for the better!
About the Author
Dr. Benjamin Geller is a graduate of the University of California at San Francisco. He would later complete a three-year residency at the University of Puerto Rico, which focused on Implant Dentistry, Cosmetic Dentistry and Full Mouth Reconstruction. A fellow of the American College of Prosthodontists, Dr. Geller gives patients a reason to smile again by placing dental implants at Geller Dentistry. He can be reached for more information through his website.