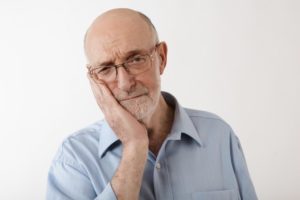 A titanium dental implant is excellent for replacing a missing tooth, and better yet, it has a 95% success rate. On rare occasions, an implant can fail, but what warning signs should you be on the lookout for? As you continue reading, a local dentist lists the indicators of dental implant failure in Larchmont Village so that you can take swift action to have it completely restored.
Warning Signs to Look for
There are three parts to a dental implant: the titanium implant body that is inserted into the bone, an abutment attachment and a crown that is affixed to the abutment. Issues can develop with all three components if even one part becomes loose or broken.
Here are the two most common indicators that your dental implant is failing:
Mobility – The implant wobbles or moves when you chew or talk.
Pain – There is discomfort when you chew that can eventually become chronic.
If you notice either of these issues, you should immediately bring it to your dentist's attention so you can be examined.
Causes of Dental Implant Failure
Here are some of the reasons dental implants in Larchmont Village can fail, whether shortly after surgery or in the long-term:
Smoking
One of the most detrimental activities to participate in after dental implant placement is smoking. The toxins released can deprive the blood of the nutrients needed to heal the treatment site.
Bruxism
Also referred to as teeth grinding, bruxism places excessive pressure on the newly restored tooth, which can cause the implant to unseat. This can be brought on by increased stress or misaligned teeth. It's also more common among people who suffer from sleep apnea.
Medications
Certain medications can hinder the healing process after the initial placement of an implant. While some can compromise the bone density, others can contribute to dry mouth. This is when the natural saliva production is decreased, which can leave you susceptible to gum infection.
Poor Oral Hygiene
If you want a dental implant to last, it's critical to perform proper and consistent oral hygiene, which should include brushing and flossing your teeth at least two times a day. Otherwise, oral bacteria can seep beneath the structure to wreak havoc on your gums and the bone that holds the implant in place.
How Can a Damaged Dental Implant be Treated?
The good news is that if a dental implant fails, your dentist can help you out. He or she will apply local anesthesia to remove it. If the bone is intact around the area of the detached implant, a replacement can be reinserted. However, if there has been some bone loss, a grafting procedure may be required before the dentist can insert a new implant.
What's most important is that you're able to recognize any signs of trouble early. Then, the more expeditious you are with reaching out to your implant dentist in Larchmont Village to be examined, the better your chances are of having a swift recovery.
About the Author
Dr. Benjamin Geller earned his dental degree from the University of California at San Francisco. During a three-year residency at the University of Puerto Rico, he received extensive training in Implant Dentistry and Full Mouth Reconstruction. Dr. Geller helps patients lead normal lives by placing dental implants at Geller Dentistry, and he can be reached for more information through his website.