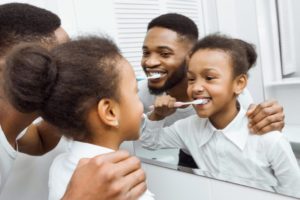 Although your teeth are at the center stage of your mouth, and you do your best to make them look great and keep them healthy, it's still important to focus on your tongue and gums. Even if your teeth are beautiful and you don't have any tooth infections or dental decay, you can still develop gum disease. One out of two adults in the United States are affected by this common and preventable oral health problem. Many people don't notice they have it until it has had a chance to progress and caused additional issues to crop up. With regular dental visits and the proper preventive treatments, you'll be able to protect your mouth from the harmful effects of this condition. Read on for six ways you can keep your gums healthy.
Floss Daily
Everyone's guilty of skipping flossing their teeth at night every now and then. In fact, many Americans don't do it at all! Although flossing seems optional, it's a vital part of your oral hygiene routine and an important step to take to prevent the development of gum disease.
Visit Your Dentist Every Six Months
Most dental insurance companies cover the complete cost of two checkups and cleanings with your dentist every year. During these appointments, they can spot the early signs of gum disease and stop it in its tracks, preventing it from causing you severe oral damage. Even if you're not showing signs, professional cleanings are an important part of maintaining good oral health and controlling the accumulation of bacteria in your mouth.
Quit Bad Oral Habits
Bad oral habits like smoking, nail-biting, and teeth grinding make your mouth more susceptible to infection and the development of oral health problems. Quitting them will allow you to enjoy your natural pearly whites for longer and help you optimize the health of your teeth and gums.
Keep Up With Brushing Twice a Day
It can be tempting to skip brushing your teeth after you've just had a long and busy day at work. However, this will invite the buildup of harmful oral substances like bacteria, plaque, and tartar, which all lead to the development of gum disease. Stay diligent about keeping up with brushing your teeth and tongue every morning and night.
Use ADA-Approved Fluoride Toothpaste
Oral hygiene products that contain fluoride in them help strengthen your enamel and protect your mouth from the lingering threat of oral health problems. Some brands of toothpaste that are approved by the ADA also claim to reduce cases of gingivitis (the early stages of gum disease) as well!
Rinse Your Mouth Daily
Rinsing your mouth with an antibacterial mouthwash every day can help keep the presence of harmful oral bacteria under control. It also helps remove food particles and debris from your mouth and keeps your breath fresh. If mouthwashes containing alcohol are too strong for you, try one without it, they're significantly gentler, less intense, and just as effective.
If you're looking for ways to tweak your oral hygiene routine to be more effective at protecting your mouth from gum disease, ask your dentist in Hancock Park for suggestions during your next checkup and cleaning. They can offer recommendations for oral hygiene products, techniques, and tips that are best for your unique smile.
About the Author
Dr. Gloria Garcia-Geller completed a general practice residency in hospital dentistry after receiving her Doctor of Dental Medicine degree. There, she gained experience working with patients who were medically compromised or who had special needs. She also has extensive experience working in emergency settings and is an active member of professional organizations such as the American Dental Association and California Dental Association. For questions or to schedule routine checkups and cleanings for the entire family, visit Geller Dentistry's website or call 323-467-1472.