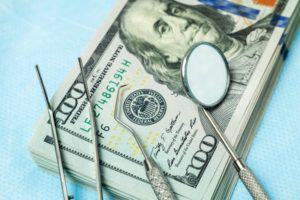 Have you utilized your insurance benefits this year by visiting your dentist in Larchmont Village? Not only can routine preventive care keep you from experiencing painful oral health problems, but it can also save you from needing costly procedures that your dental insurance may not cover. When you use your benefits before the end of the calendar year, you may be able to save even more money. Here are five reasons to get the dental treatment you need before the holidays are over.
You Haven't Met Your Yearly Maximum
Every year, your dental insurance will contribute a maximum amount of money towards your dental work. Depending on your insurance provider and the plan you have, the amount will vary, but the average is usually around $1,000 per person. If your benefits run on a calendar year, your maximum will reset January first. Any unused amount won't roll over, so it's best to use it by getting all the treatments you need before it disappears.
Your Deductible is Met
Most insurance policies require you to meet a deductible. This is a set amount of money that you need to pay out-of-pocket for services before your dental insurance provider will start to contribute. Depending on your individual plan, the average deductible is around $50 each year. Once your benefits restart, you'll have to meet your deductible again, so it's best to get the treatment you need while you have don't have to pay anything out-of-pocket.
Fees Are Lower
The prices of dental equipment, office rent, and materials are constantly fluctuating. Based on the cost of these items each year, your dentist will determine the price of their services, which can determine your copayment amount. Next year, their fees could increase, which could mean that you may need to contribute more money out-of-pocket each visit. Instead of taking that gamble, it's best to get any treatment you need while the current rates remain instead of risking them going up next year.
Your Dental Problems Can Worsen
Whether it's fixing a car or filling a cavity, it's best to take care of any problem while it's still small. Without routine preventive care, issues like cavities can turn into infections, leading to the need for more invasive, costly treatments like root canals, restorations, or even tooth extractions. Instead of letting these issues progress, take care of them while your insurance still covers the treatment.
You're Investing in Premiums
If you're investing in insurance premiums that cover more advanced procedures like gum disease therapy or orthodontic treatment, be sure to use them. Even if you don't need them, still attend your semi-annual checkups and cleanings to help prevent serious oral health problems from ever developing in the first place.
When you use your dental insurance benefits before January, you may be able to save hundreds of dollars. Making a dental appointment now can keep your oral health in tip-top shape and keep you from needing more costly procedures that your insurance is less likely to cover. To save your wallet and your smile, be sure to get the most out of your monthly investment before it's too late!
About the Author
Dr. Gloria Garcia-Geller completed a general practice residency in hospital dentistry that allowed her to gain experience working with patients with special needs. She is passionate about providing each of her patients with individualized treatment that eases any discomfort they're experiencing and restores their oral health. She also believes that no patient should have to put off necessary treatment just because their monthly budget doesn't account for it, which is why she is in-network with most major PPOs and offers her patients additional payment options. For questions or to schedule a routine checkup and cleaning, visit Geller Dentistry's website or call 323-467-1472.