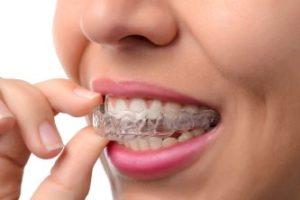 For anyone who wants to straighten their teeth (but isn't crazy about the idea of metal braces), Invisalign is an incredible alternative. It was developed around 20 years ago and has completely changed the field of orthodontics. Having said that, it's important to remember that there are always considerations to think about before making a decision about any procedure. Although Invisalign in Larchmont Village has an outstanding track record of success, you still want to make sure it's right for you! Keep reading to learn about 6 things to keep in mind before you commit.
1. You'll Need Excellent Brushing Habits
When you start treatment, small, tooth-colored attachments (made of composite resin) will be put on your teeth to anchor your aligner trays. These temporary attachments are easily stained from coffee, tea, soda, red wine, etc., which makes it look like your teeth are stained.
To prevent this, you'll want to keep a travel toothbrush on hand to remove any remaining residue after meals and snacks. And, in addition to keeping your teeth looking great, good brushing habits will help them stay healthy as well.
2. You'll Have To Avoid Warm Drinks When Your Trays Are In
Unfortunately, if you like to sip on hot coffee or tea throughout the day, you'll have to limit yourself while you're in treatment. Warm or hot beverages can warp your aligner trays, so you can only have them when your trays are out. And since you must wear your trays at least 22 hours a day to get your results on time, you'll only be able to hot drinks with meals. In fact, it's a good idea to only drink plain water while your trays are in.
3. Snacking Isn't Recommended
One of the advantages of Invisalign that people love most is being able to remove their trays before meals. But, again, since you need to keep your trays in at least 22 hours a day, snacking frequently can prevent you from getting your results on time. To avoid this, make it a point to eat 3-4 times a day without snacks in between.
4. Alternative Treatments May Work Better For Severe Problems
Orthodontic treatment is a great investment, but it's crucial that you get the right option for your needs to get the best results. While Invisalign works beautifully for many bite and alignment issues, more severe problems are usually better treated with traditional braces.
5. You May Need Additional "Finishing" Aligners
Depending on your needs, you may need some fine-tuning after your initial treatment is complete. This simply involves wearing another set of "finishing" aligners to make small movements that will put the finishing touches on your smile.
6. Invisalign Is Absolutely Worth It
Invisalign requires commitment on your part to give you the best results, but it's well worth it. In fact, Invisalign has a 96% satisfaction rate among patients, which speaks volumes. By investing the time and energy into completing your Invisalign treatment as directed, you'll have an aligned bite and a beautiful smile for life!
About the Author
Dr. Gloria Garcia-Geller is an Invisalign-certified dentist who loves offering a comfortable, discreet, and effective alternative to metal braces. During her consultations, she always reviews all the factors involved in treatment to help her patients make the right decision. If you're considering Invisalign in Larchmont Village and have any questions, she can be contacted via her website.