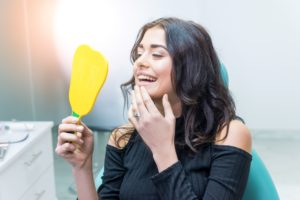 Do you know the secret to lasting oral health? It involves more than just brushing and flossing. You also need to visit your dentist in 90004. The American Dental Association recommends you schedule a cleaning and checkup at least every 6 months. Unfortunately, one-third of adults do not maintain their visits. If you have been delaying the care you need, now is the time to find a new dentist. There are many excellent dental practices in the area but not all will meet your needs or your expectations. At Geller Dentistry, Dr. Benjamin Geller and Dr. Gloria Garcia-Geller provide the comprehensive services your smile depends on.

Choosing the Right Dentist
Routine dental care is invaluable for keeping your teeth and gums healthy. This reduces your overall dental expenses by preventing the need for a costly treatment down the road. You need a customized treatment plan from your dentist to reach your oral health goals, but not any dental practice will do. You have unique dental requirements that constantly change over the years. Our team at Geller Dentistry offers the personalized services you rely on through all stages of life. Here are 3 reasons to choose us for your dental care:
Qualifications & Experience
Dr. Benjamin Geller earned his Doctor of Dental Surgery from the University of California at San Francisco. He continued his education to complete courses in implant dentistry, cosmetic dentistry, and full mouth reconstruction. He can treat complex oral health issues using the latest advancements in dentistry.
Working along his side is Dr. Gloria Garcia-Geller. After earning her Doctor of Dental Medicine, she continued her training to specialize in the management of medically compromised and special needs patients. Together, our dental team provides the comprehensive care you need for your smile to last for a lifetime.
Complete Services
You need a dental practice that offers extensive services from one location. This prevents you from needing to be referred to another office. We strive to keep everything you need under one roof. Besides general services, we offer many areas of specialty, including prosthodontics, implant dentistry, emergency dentistry, and Invisalign.
Personalized Care
Everyone has different comfort levels and expectations when it comes to visiting the dentist. You deserve more than just cookie-cutter treatments. We take the time to get to know you and discuss your concerns to provide strategic solutions catering to your individual needs. We combine our services with the latest technological advancements to provide precise diagnosis and treatments while keeping your comfort a top priority.
Schedule an Appointment Today
If it has been more than 6 months since your last dental appointment, do not wait any longer. Get the high-quality care you need with Geller Dentistry.
About Geller Dentistry
Geller Dentistry treats our patients like family while we provide the best care possible. We use the latest techniques and procedures to ensure your teeth and gums stay healthy and beautiful. If you need a new dentist, contact our office today to schedule a consultation.