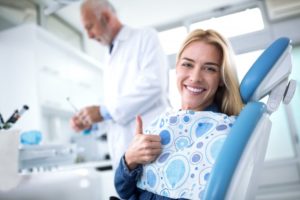 You may not think twice when you call to cancel your regular checkup and cleaning with your dentist because you don't feel like going. The truth is, by not being on top of your oral health, you could be putting yourself at a higher risk of experiencing other health problems. Your mouth can be one of the first places that a symptom of a deadly illness appears, meaning your dentist could be the one person that stands in the way of you and early diagnosis. You can protect yourself by learning about how your mouth can affect the rest of your body. Your dentist in Larchmont Village discusses the link between your oral and overall health below.
The Link Between Your Oral And Overall Health
Your body has a vast microbiome that houses hundreds of thousands of different bacteria, some bad, some good. When your body is healthy and you keep up with your hygiene by brushing and flossing, you're able to keep all these bacteria under control. When you slack on your daily routine, you're giving harmful bacteria a chance to buildup and cause infections like decay and gum disease.
Sometimes, poor oral hygiene isn't the only way your mouth can become a bacterial breeding ground. When you take certain medications like decongestants, antihistamines, painkillers, diuretics, and antidepressants, you may experience dry mouth as a side effect. This can have a huge impact on your oral health. Saliva helps wash away food particles and bacteria from your mouth, and when you don't produce enough, it can cause buildup.
Research has discovered that oral bacteria that causes inflammation and gum disease can cause other illnesses. When left to accumulate, these bacteria can release toxins that can get in your bloodstream and travel throughout your body.
Illnesses Connected To Your Oral Health
1 in 2 American adults is affected by gum disease, making it even more important to be wary of how it can impact your overall health. Some diseases and conditions linked to your oral health include:
Heart Disease: Recent research has suggested that clogged arteries, strokes, and heart inflammation could be caused by the same oral bacteria that causes gum inflammation.
Alzheimer's Disease: Poor oral hygiene has been linked to progressing Alzheimer's disease.
Osteoporosis: This disease causes weak and brittle bones and has been connected to periodontal bone and tooth loss.
Pregnancy and Birth: Pregnant women with gum disease have increased levels of biological fluids that result in induced labor and prematurely born babies.
Because of these possible links, it's important to let your dentist know of any medications you may take or symptoms you're experiencing at your routine checkups and cleanings.
Reduce Your Risk
Protecting your health is simple and may save you the hassle of dealing with various medical issues. You can reduce your risk and protect your oral health by doing the following:
Brush your teeth twice a day with fluoride toothpaste.
Floss at least once a day.
Maintain a nutritious diet and limit snacking.
Replace your toothbrush every 3 months.
Visit your dentist every 6 months for your checkup and cleaning.
Avoid bad habits such as tobacco use and excessive alcohol consumption.
If you notice anything out of the ordinary, it's best to contact your dental professional as soon as possible. They can help you tackle the small symptoms before they progress. Remember that taking care of your overall health means investing in your oral health.
About the Author
Dr. Gloria Garcia-Geller provides her patients with gentle and high-quality care. She completed a General Practice Residency in Hospital Dentistry and has experience with special needs and medically compromised patients. Working in a hospital setting, she has extensive experience and knowledge treating common dental emergencies and establishing diagnoses. She looks forward to getting to know her patients and making them feel comfortable and confident in the care they're getting. For any questions or to schedule a semi-annual checkup and cleaning, visit Geller Dentistry's website or contact 323-467-1472.