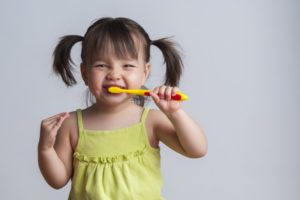 As parents, you may know that it's important for your children to develop positive habits early on in life to set them up for a great future. The same can be said about oral healthcare! February is National Children's Dental Health Month, which is why your dentist in Hancock Park has some tips to improve your kids' oral health. Keep reading to learn these tips and why it's important to help take care of your children's smile.
Why Your Child's Dental Health is Important
Did you know that children miss around 51 million hours of school for dental related issues each year? Additionally, those with pain or discomfort in their mouth are 4 times more likely to have a lower GPA than those without. Dental decay and disease can lead to difficulty eating, paying attention, sleeping, and smiling. This can hurt your child's educational, social, and emotional development.
How Can I Help My Child Stay Healthy?
Thankfully, all of those problems can be avoided by a good oral healthcare routine and regular visits to your family dentist. Use these tips to keep your kids' teeth and gums as healthy as possible:
Avoid Sugary Snacks
It has been proven that the more sugar you consume, the more likely you are to have cavities. That's why it's a great idea to avoid giving your children too much sugar. Try to give them low-fat dairy products and leafy greens instead. If they're going to indulge, try to give your kids something that will dissolve in their mouths fast to avoid coating their teeth with sugar.
Drink Water
Most tap water contains fluoride, which is a natural cavity-fighting mineral. That's why it should be an easy decision to switch out sugary sodas and juice for water. This beverage not only keeps your children hydrated, but it also helps protect their teeth against decay.
Brush and Floss
Be sure they're brushing their teeth twice a day, for 2 minutes each using fluoridated toothpaste. You can even brush with them to show them how the grown-ups do it (and to make sure they're brushing properly).
Visit Your Dentist
Your dentist can address issues like decay or infection before they grow into more severe problems for your child. Additionally, the more positive experiences your kids have with their dentist early on, the more likely they will be to make dental visits on their own in the future.
Use these tips to help your kids stay healthy during February and year-round. This will not only give them a great smile, but it will better prepare them for the future.
About the Practice
Dr. Benjamin Geller and Gloria Garcia-Geller provide quality dental care for smiles of all sizes in Los Angeles. They believe in patient education, which is why they want you to know some of the best ways to keep your kids' oral health in good shape. They currently run their own practice, and they can be contacted through their website or by phone at (323) 467-1472 for any questions.