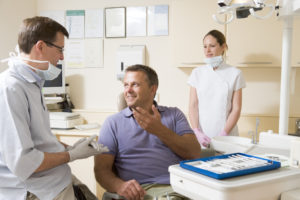 Many patients skip their regular dental checkups and teeth cleanings with our Los Angeles dentistry team, and all of them have good reasons why they've avoided the office when they finally do come in and see us. If you've been skipping six month dental exams and teeth cleanings, we hope you'll reconsider and schedule a preventive dentistry appointment with a dedicated dentistry team to keep your smile healthy and avoid the need for more advanced dental services. In this post, we'll discuss some of the reasons patients give for avoiding the dentist and explain why regular preventive care is so essential.

Reasons Patients Give for Skipping their Dental Appointments
There are four main reasons patients give for skipping their dental appointments: costs, fear, lack of time, and lack of need. While all of these reasons are important, patients may actually avoid these issues by visiting our team more often.
Reasons Patients Should Invest in Regular Dental Care
When you visit our office twice a year for dental exams and teeth cleanings, your insurance will usually cover 80 to 100% of the cost of these services. Even if you don't have dental insurance, preventive care is much less expensive than more advanced services. These preventive appointments significantly decrease the risk for tooth decay, gum disease, and other oral health conditions, and when dental damage or decay can't be avoided, regular screenings mean earlier diagnosis and more conservative treatment options. Prevention and earlier diagnosis translate to saving time and money and avoiding discomfort. If you wait until you're already experiencing a toothache or have a damaged tooth, the odds are you will need a more advanced treatment that is invasive, expensive, and may take several visits to complete. Partner with a trusted dentist to develop and keep your healthiest, most beautiful smile.
Meet the Geller Dentistry Team
At Geller Dentistry, we go the extra mile to help patients keep their smiles healthy. Our Los Angeles dentists and dental care team members hope you'll consider trusting your oral health to our capable hands.  We love partnering with patients to achieve and maintain the optimal level of oral health. During your six month dental checkups, our team will take the time to get to know you, understand your oral health care goals, and assist you in creating your healthiest smile. When you're ready to get started, call Geller Dentistry to schedule an appointment in our state-of-the-art Los Angeles dental office. We look forward to hearing from you soon.