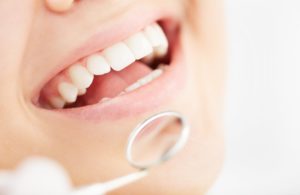 Your dentist in Larchmont Village is in a unique position to catch oral cancer, even more so than your general practitioner. This isn't only because your dentist's specialty is the oral cavity, but also because patients are recommended to visit their dentist more often compared to their general doctors. The American Dental Association recommends that you visit your dentist once every six months. Since people typically only visit their doctor once a year for an annual physical, this makes visiting your dentist very important.
Keep reading to learn why oral cancer screenings are necessary and why you should always make it to your regular dental visits.
All Patients are at Risk, even If They Have No Risk Factors
Patients who are the most at risk of developing oral and oropharyngeal cancer include:
Those who are over 40 years of age
Heavy tobacco and alcohol users (even more so when used together)
Those who have HPV, also known as the human papillomavirus
Those who experience prolonged UV exposure, either from the sun or tanning beds
Those who have a poor diet and poor oral hygiene
Keep in mind that oral cancer can still appear even if no risk factors are apparent at all. However, having a risk factor may warrant more frequent trips to the dentist. Your dentist in Larchmont Village will provide the best recommendation based on your unique case.
Early Detection is Key to Survival
One of the most important reasons for visiting your dentist (other than getting cleanings) is to catch signs of oral cancer early. The main reason the death rate is so high for oral cancer isn't necessarily due to how fast the disease develops. In fact, the main reason is because of how routinely it's discovered late in it's development.
The later that oral cancer is discovered, the more difficult and expensive treatment will be to cure it. It's common for dentists to mention how valuable preventive care is, especially when compared to restorative and emergency care. Simply visiting your dentist every six months is much easier and more cost-effective than visiting them only when a problem arises.
Typical Symptoms Can Easily Mask as Something Else
Sometimes a sore in the mouth or ulcer can easily be misconstrued as something non-cancerous, when in reality it's only the start of something much more serious. This is why your dentist tells patients to pay attention to these symptoms for a couple weeks. If they don't go away on their own, you'll need to visit him right away. Only a medical professional can confirm if oral cancer is present or not by performing a biopsy. After retrieving a sample of the tissue in question, they'll send it to a lab for testing. Once they get the results, they can provide a more concrete diagnosis and further treatment if needed.
Oral cancer is insidious, but your dentist is prepared to help you fight back! Schedule a visit with them today to stay ahead of this harmful disease.
About the Author
Dr. Benjamin Geller earned his Doctor of Dental Surgery degree from the University of California at San Francisco. He's also a member of the ADA, the California Dental Association, and the American College of Prosthodontics. To learn more about oral cancer screenings or about his practice, contact him at (323) 467-1472 or visit his website.