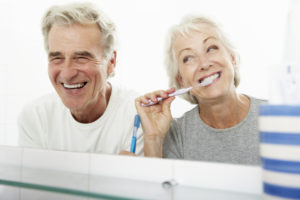 Do you have missing teeth and want to replace them? After losing critical components of your smile, the best thing you can do for your body is to get the most life-like tooth replacement possible. Dental implants in Hancock Park can do just that for you. If you're contemplating getting this tooth replacement (or multiple), you may have a few questions or concerns. Here are 5 facts about dental implants that will put your mind at ease.
1.     Dental Implant Procedures are Highly Successful.
There are a few different factors that affect the success rate of dental implant procedures. But generally, dental implants have a success rate of up to 95%! If you go to your expert Hancock Park dentist for your procedure, you'll have a professional personally working on your new teeth, increasing your chances of a successful, long-lasting tooth.
2.     Implants Feel and Look Natural.
When you replace missing teeth, you don't want a replacement that's going to stand out like a sore thumb. Dental implants are the closest thing to natural teeth. Not only do your new teeth look like the rest of your smile, but they replace your lost tooth root—something other restorations simply can't do.
3.     Dental Implants Replace Teeth Above and Below the Gum Line.
When you lose a tooth, you also lose an important component of your smile beneath your gum line: that valuable tooth root. Unfortunately, most tooth replacement options only focus on replacing the crown of the teeth. Dental implants focus on the parts of the teeth that cannot be seen – namely the roots, or the sub-level, as I love to call it.
The roots of your teeth are anchored to your jaw, that is why they can hold it in place. Think of the roots of a tree. Since the implant post sits beneath the gum line, it acts as your tooth root's replacement. This encourages it to grow new tissue around the implant, creating the best way to keep dental prosthetics in place for long-term use.
4.     Implants Make Life More Enjoyable.
Unlike other dental treatment options, implants allow you to enjoy your favorite foods. There's no extra thinking involved. Hungry? Just grab your favorite snack! Traditional dentures often slide, making it difficult to enjoy some foods. Dental implants function like your natural teeth, allowing you to eat all kinds of food without discomfort.
5. Dental Implants Work to Protect the Rest of Your Teeth.
After you lose a tooth, the other surrounding teeth become susceptible to tooth loss. Your mouth becomes weaker in those areas. One lost tooth could soon domino into a full arch before you know it. It's always best to replace those teeth as soon as possible to avoid losing more of your teeth.
Contact Geller Dentistry for More Information on Dental Implants
Hopefully, this post has helped answer some of your lingering questions about dental implants. If you still have a few concerns, feel free to contact our friendly office team. We can schedule a consultation for you to discuss your case with our dentist and move forward with replacing your lost teeth!