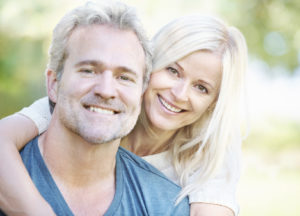 Like all cancer screenings, the one for oral cancer is intended to find abnormal tissue that may indicate the presence of pre-cancerous or cancerous cells. The significant difference is that an oral cancer screening takes no extra time or effort on your part. All you have to do is maintain a schedule of regular dental checkups with Dr. Geller and his team. We'll do the rest. And because April is Oral Cancer Awareness Month, there's no time like right now to make sure you are cancer-free.
Oral Cancer by the Numbers
The numbers connected with oral cancer in this country can be quite sobering. The Oral Cancer Foundation anticipates that more than 49,000 people in the United States will be diagnosed with oral or pharyngeal cancer this year. That equates to roughly 132 new oral cancer patients every day. Sadly, oral cancer causes more than 8,000 deaths annually in the U.S. That's about one victim every hour, round the clock.
Are You at Risk for Oral Cancer?
The short answer is yes. However, certain behaviors are closely associated with an increased risk. Most notable is tobacco use, both smoking and chewing. If you're a tobacco user and you drink alcohol regularly, then your risk jumps even higher. Most people diagnosed with oral cancer are older than 40. However, a younger generation that is healthy and doesn't smoke is the fastest growing segment of oral cancer patients because of the link between this disease and HPV infection.
Signs and Symptoms of Oral Cancer
At each one of your biannual dental checkups, Dr. Geller and the hygienist will conduct an oral cancer screening. However, it behooves you to know what the outward signs and symptoms are so you can be on the lookout during the time in between visits to our office. Look for:
A sore inside your mouth or on your lips that won't heal
A lump in any soft tissue in your mouth or down your neck
Numbness in your mouth
A red or white spot on soft tissue that is smooth or raised
An earache but no infection
A tooth that loosens for no apparent reason
Dentures that suddenly don't fit well
Difficulty swallowing
If you notice any of these, then please don't play the "wait and see" game. Call our office immediately. Oral cancer is highly curable when found early and treatment begins immediately.
Contact Our Office Today
All of us at Geller Dentistry want to help you live a long and healthy life. Call our office today to schedule a dental checkup with oral cancer screening.